Ames 1862 Naval Cutlass


Again Authorized for CPO's
Presented is an Ames Civil War M1860 cutlass, dated 1862, without the maker's imprint on the reverse ricasso or an
Ames serial number, but the hilt shows extensive use. Except for the missing maker's imprint and the lack of inspector's
stamps, and serial number, this is an excellent example of this most desirable collector's sea service edged weapon having its original scabbard and throg. Confederate War M1860 cutlasses are very hard to find with an original scabbard. Most of them are either missing their scabbard or are being sold with one that is a replica. The condition of the scabbard is excellent. It has the expected marks of age, but
there are no breaks or deep cracks. Thirty nine, all original copper rivets, run down the back and the last one at the tip is larger in size.
The knuckle bow on the brass basket has a flange with an elliptical brass cup which acts as a hand
guard. The curved guard is riveted to the flange and forms a solid half basket. The guard, grip, and
complete leather covering are in very good condition, as is the blade where there only are some minor
small black areas. As was the custom with most grips used at sea, the wire wrap has been removed. The wire
had a tendency to break and make fish hooks which cut the skin so the sailors removed it. Other than the 1862
date,there is only what may be the rack numbers stamped at the upper inside quillion.
This rare Navy relic is a great dress uniform
addition for current CPO's, as a gift, or for a collection focused on unique collectibles.
MARKINGS: The rack number, 1 9 M and under 951 on the inside top quillion. On the reverse there is the "USN  D R 1862"  date on the ricasso. There are no other markings.
CONDITION:
The entire hilt assembly, guard and grip are in excellent condition with only superficial marks of age over the
past 150 years. The grip is unwrapped with copper wire. but has it full  leather covering.  The original varnish is mostly present. A warm patina of age has turned the brass golden brown. The hilt and blade are tight. The leather washer is not present. The scabbard is complete and has the original throg, which is a rarity. Both are impossible to find if missing. The slightly sharpened blade is in very good condition with only some scattered blackening and pitting on both sides.
  Original throg
and scabbard with no shrinkage and large rivet at end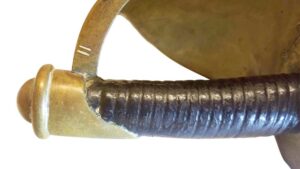 DIMENSIONS    Cutlass 32″ long overall. 26″ blade length            Max width of blade 1 3/16″   Max thickness 5/16″
Fuller 3/4″ W x 19 1/4″ L      Weight 2 lbs 12 oz
These measurements and weight exactly match those of known Ames cutlasses we have sold.  This is a complete example of an Ames Civil War Cutlass. It would be hard to find a comparable example!
BRIEF HISTORY
Ames Mfg. Co.: The Ames Manufacturing Company, Chicopee, Massachusetts, was founded in 1832 by James Tyler Ames and his brother, Nathan Peabody Ames. The company manufactured small tools, cotton machinery, swords, cannons, and did castingof bells. They started production of military contract swords in 1832 with the M1832 foot artillery sword, and ended with the M1906 cavalry saber in 1906. Ames produced more swords for the American military than any other company before or since, totaling over 200,000 swords in service by the end of the Civil War. In that time, at least ten different manufacturing marks were used on the swords. A little knowledge of the company history helps place a date range for when each stamp was used. When the company started producing swords it was led by Nathan P. Ames, and most marks reflected that fact. In 1847, Nathan died and left the company to his brother James. The markings on the blades were immediately changed from N.P. Amesto Ames Mfg. Co. In 1848, the town of Cabotville was incorporated into Chicopee, Massachusetts, and the marks were once agaichanged to reflect this. Blades dated as late as 1850 may still bear the Cabotville stamp, as the old dies wereprobably used until they were worn out. In a much reduced state, they are still in business today.The Model 1860 cutlass which replaced the Model 1841 saw service during the Civil War, and through the Spanish American War. They likely were used during the early days of World War I. Based on company records, 22,000 of them were made for the Navy and 300 for the Army by Ames in two Massachusetts plants. The design for this cutlass was copied from the French naval cutlass used from before 1800 when boarding of enemy vessels was common place. The French affectionately called it "Cuillere-a-pot" (the soup ladle) and the comparison is obvious.Mostly, from an essay by Mike McWatters