BRAND NEW ASTRA III B SEXTANT
AUTHORIZED ASTRA DEALER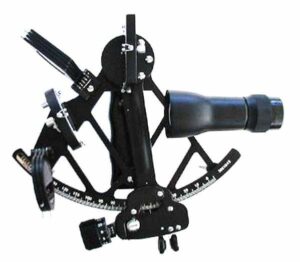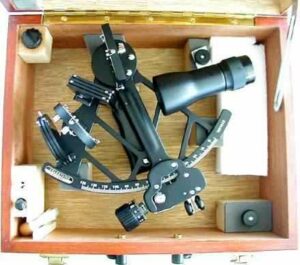 Astra IIIB Revolutionized the
Metal Sextant Market
    MAINTAINS "BEST BUY" RATING
Some years ago, as the search for quality previously owned sextants became harder and harder to find, I decided to investigate the ASTRA III B sextant that I had only read about. It was conceived by Ken Gebhart of Celestaire, and manufactured to his specifications in China. Ken is the oldest, in terms of length of time in the business, of those of us who were selling sextants in the waining days of the use as a position fixing necessity. He and I knew each other from back in the mid 1970's, and strangely both our companies were based in the Mid West. Since then, our wakes have crossed once or twice.
The manufacturer's literature states that the Astra IIIB has revolutionized the metal sextant market by introducing a high quality, accurate, metal sextant at a very reasonable price. Over 13,000 sextants of this model have been sold in the US alone in the past 15 years; far more than any other serious sextant. Its popularity has spread throughout the rest of the world as well. It is easy to see why. The sextant has the looks and feel of a fine piece of precision engineering and is detailed to a very high standard all around.
The frame is made from lightweight aluminum alloy which resists corrosion. Aluminum alloy is not new to sextant construction. It is currently used by Tamaya, Freiberger and by C. Plath for a lightweight version of their famous Navistar Classic sextant. The Astra sextant is electrically lighted by LED on the arc and drum. Batteries NOT included. Its low price, excellent optics, and choice of horizon mirrors and other accessories makes it a good choice for beginners and professionals.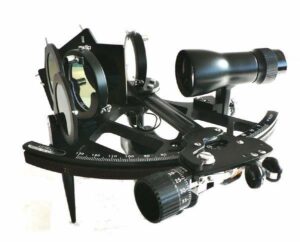 Manufacturing: The Astra IIIB is made by the Changzhou Celestaire Instrument Co. in China and is subject to stringent testing. For example, each mirror and shade glass is tested for perfect flatness by the Fresnel diffraction pattern method. The sextants are assembled and tested in a clean, professional, environment. Random units have been tested by us and several professional navigators, with results that rival the most expensive German and Japanese models.
The Astra IIIB is seen in two models: standard and deluxe. The difference is in the index mirror. The Standard model has a round index mirror with the silvering applied to the rear surface of the glass. It has less surface area, and is not as good for twilight use. This is the way all ASTRA IIIBs were before 1994. At that time the Deluxe model was introduced with a rectangular index mirror having the silvering applied to the front surface (the mirror is interchangeable in size with most other full size rectangular mirrored sextants). From an engineering standpoint, this arrangement allows for a larger reflecting profile during high angle observations, and better reflection brightness for all sights. Such improvements, are more easily noticed by the user doing twilight star and planet sights. From a practical standpoint, the biggest improvement is in durability of the silvering itself. When applied to the front surface. it is easy to keep clean and free of saltwater contamination. It is further protected by a durable oxide coating. In contrast, rear silvered mirrors need re silvering more frequently if saltwater becomes trapped between the mirror and its housing and is not faithfully rinsed out.
The horizon mirror for this unit is the whole horizon (WH) type) which is felt by many to be easier to use and longer lived, and is a costly option on other sextants with which the Astra competes.
Traditional index mirror
Whole horizon mirror
Included and Optional Equipment:
The sextant has LED lighting of the arc and drum powered by two standard size AA batteries (not included) which install in the handle. It comes in a varnished wooden case, with instruction book, certificate of accuracy, vial of oil, and adjusting wrench. It includes a 3.5×40 monocular telescope as standard equipment.
NEW ASTRA III B DELUXE SEXTANT
SPECIFICATIONS:
Complete with Manufacturer's ONE YEAR WARRANTY
Inspection Certificate reads: This instrument is free of error for practical use
Guaranteed accuracy: 20″ arc
Measuring Range:-5 to +130 degrees
Telescope: 3.5 x 40mm: Coated optics
Frame: Lightweight die cast aluminum alloy with corrosion resistant light gray finish.
Micrometer Scale: reads to 1.0 min. Vernier to 2/10 min
Index Mirror: 56 x 42 mm. aluminized on the front side.
Horizon Mirror: 51mm diameter.
Shades:
4 for index mirror
3 for horizon mirror
Sextant Weight: 2lbs, 10 oz. 10.0 lbs in case
Carrying case: Hi Gloss Varnished Mahogany case with bronze clasps
Hard wood case