Beautiful Nantucket Lightship
Picnic Basket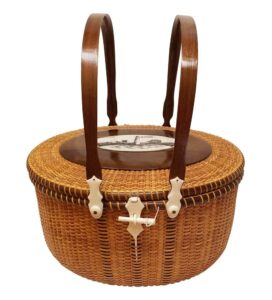 Dimensions: Ht 8 ½"              Width 13 ½"            Depth 11"
Presented is a handsomely constructed.Nantucket Lightship Basket large enough to accommodate a picnic outing  We acquired these baskets some time ago, and recently discovered them in our warehouse.  They are contemporarily made, although we've had them for at least 10 years.  We have different sizes and shapes, and will be getting all of these up on the website in the coming weeks.
Nantucket Lightship Picnic Basket
The execution of these fine pieces is exemplary.   They've used beautifully  grained both dark and light woods, and richly colored cane.  The engraved scenes on the tops and sometimes the sides of the baskets of sailing ships, whales, etc.  are beautifully done.  We've noticed that these fine baskets are used as decorative decor as often as for the utilitarian purpose of carrying personal belongings.  And they make memorable and much appreciated gifts. 
Top Engraving – Lighthouse and Clipper Ship                                                             Bottom inside of Basket
History of Nantucket Lightship Baskets
In the mid 1800s, the state of  Massachusetts commissioned lightships, staffed with approximately 10 men, to provide light to passing ships in the heavily trafficked waters around the dangerous shoals to the south of Nantucket.  The lightships, acting as floating lighthouses, were positioned to warn of the dangers and to prevent disastrous shipwrecks.  With little to do during the day, the crew turned to weaving rattan baskets to pass the time on board.  The wooden bases of the baskets were prepared ashore, while the weaving and assembly took place on the lightship.  The original concept for the baskets design was thought "be have been cultivated aboard whaling ships of the time".
The three significant elements found in the construction of the Nantucket lightship baskets are:
1) The basket is woven on a mold, 2) the weaver uses rattan also known as cane, 3) The basket has a solid wood base.