Steam Yacht "ZARA"
Commissioned by U.S. Navy WW I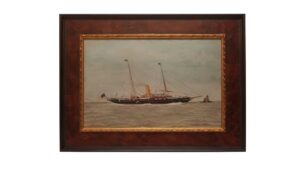 Dimensions: Painting  18″ x 11 1/4″  –  Framed  24″ x 17 1/4″ x 1 1/4″
Zara, a 184 gross ton steam yacht, LOA 152″, 20Ft Beam, was built at Paisley, Scotland by Fleming & Ferguson in 1891. She was designed by G.L. Larson and purchased by the US Navy from private owner D. H. Friedman of New York,  in April 1917.   At that time she was placed in commission as USS Zara (SP-133). After not quite a year's service in the Long Island Sound area, she was decommissioned in April 1918 and stricken from the Navy List soon thereafter. However, Zara remained in use as a guard vessel in western Long Island Sound and was not sold until September 1919.
We think the painting was commissioned by one of the private owners, possibly D.H. Moore of New York (given the flag with the "M" aloft) who owned the yacht in 1901.  The painting shows very fine draftsmanship and detail with several figures aboard as she was underway – perhaps on Long Island Sound.
Condition: The painting has been recently cleaned and reframed with a distressed wood veneer and gold liner. There are some very minor scratches and water drops on the canvas, but nothing that detracts from the painting.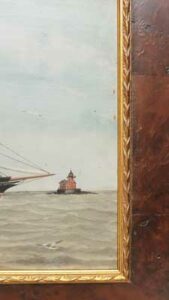 Showing back of newly framed work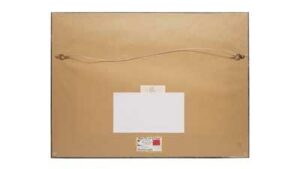 Original Price: $1200.00          Sale Price:  $950.00
Shipping: $55.00