The Famous El Tigre Cannon of the Castle of San Cristobal
Tenerife, Canary Islands, Spain
Presented is a very fine model of the famous Cannon "El Tigre".  The Castle of San Cristobal, Tenerife, Canary Islands, Spain, is a museum which houses the famous Canon Tigre (Tiger Cannon), which, on July 25, 1797, shot a musketball to Rear-Admiral Horatio Nelson's  right arm.  The shot  fractured his humerus bone in multiple places  and was the reason he had his arm amputated.  The Castle of San Cristóbal (Spanish: Castillo de San Cristóbal) , was the first fortification of significance on the island of Tenerife,  and the main defensive building on Santa Cruz Bay.
This is a good size, very ornate model of this historic cannon. 
(The actual cannon is pictured at the bottom of the page)
We've owned this model for a number of years in our personal collection and just recently decided to offer it for sale.   This is a static model and is not a working cannon.  It is quite good size and makes a very dramatic display piece for a den or office.  Our recollection is that the selection of model cannons we acquired were made in Spain.  There are no markings indicating the maker.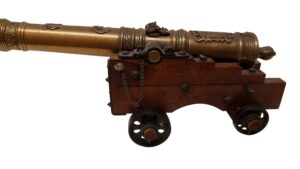 Dimensions: 
Cannon:  17 1/4″ L,         2 3/4″  width a rear end,     2″ at trunnions,      1 3/4″ at bore
Bore 3/4″
Overall in carriage: 18″ L  x 8″ Ht.
Weight: 7 lbs  9 oz.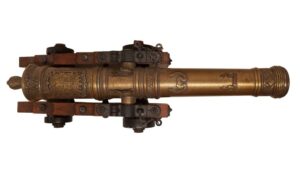 View from top
Detail on cannon barrel
On 25 July 2009, the El Tigre cannon was installed in a dedicated room at the centre. The bronze cannon was constructed in Seville in the 18th century, and is 3 metres (9.8 ft) long and weighs 2,000kg. It is said to be the cannon that injured Nelson during the  Battle of Santa Cruz de Tenerife (1797)