Silk Embroidery of American Eagle & Flags
"Epluribus Unum"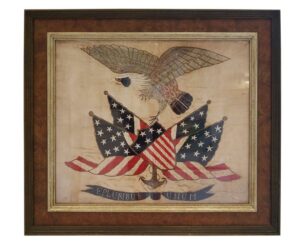 Dimensions
Framed: 25 3/4″ x 22″ x 1 1/4″                      Embroidery: 20″ x 16 1/4″
Presented is a very nicely done and quite an old embroidery on silk of an American Eagle with 10-star flags and a five-star shield.  Epluribus Unum is embroidered on the bottom banner.  The embroidery appears to be cotton yarns on a silk background with gold metallic yarns outlines on the eagle and flags and complete fill-in of the anchor at the bottom.  The gold metallic thread shows tarnish of age.  The silk fabric shows some age at the top of the picture and the bottom right corner.
This was done by a very accomplished artist and we think that it is at least 150 years old.   There is some age showing in the silk at the top of the frame and the right lower corner, but nothing that detracts from the overall effect of the artwork.  It is very nicely framed under glass in gold and burled wood frame.   It is well preserved and in reasonably good condition considering its age.  We also think that this is not the original frame, but a reframing in a more contemporary design.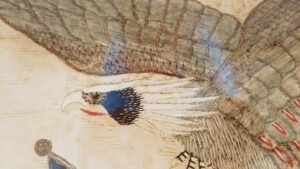 American Eagles and Flags have been a mainstay of our patriotic artistic works since the revolution, and this is an exceptionally nice representation of this type of artwork.  Unfortunately, we don't have much information about the provenance of this particular work but feel it would be a fine addition to anyone wishing to add this note to their decor.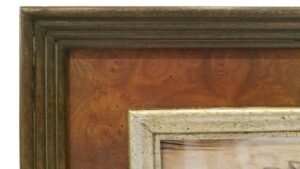 Detail of Picture Frame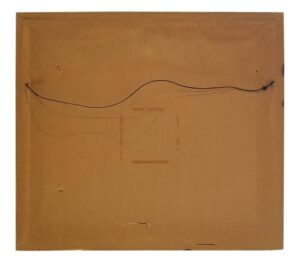 Back of work
Price: $350.00                   Shipping: $75.00