USN Iron Foredeck & Anchor Bell
with Wall Bracket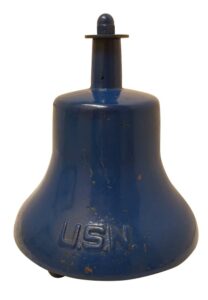 Dimensions
Dia.at base: 9 1/2″                   Ht.to shoulder: 6 3/4″                Overall Ht. 10 3/4″
Weight: 15 lbs.
Presented is a very nice US Navy iron bell painted ocean blue.
Price:  $850.00        Shipping:  $75.00
Sale Price:  $650.00
It is the classic shape of the standard Navy foredeck and anchor bells of the Korea/ Vietnam era and comes with a wall bracket for mounting. The classic tapered neck on top of the bell is present on this bell and it has the classic rounded hex nut and washer securing the clapper, allowing for the wall mount.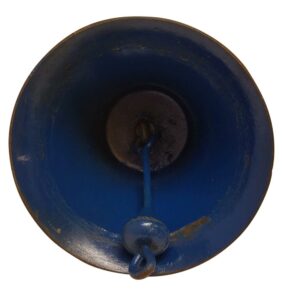 It has a strong resonance and vibration that rings sharp and clear with a distinctive sound. Do not expect cheap imitations to have this special characteristic ringing because this"bell metal" is specifically unique to the Navy for their specialized use.
These fine Navy Foredeck and Anchor bells are becoming hard to find in good condition and with all of their respective parts. They make a wonderful gift for all those appreciating Naval service and history.