Dramatic Pewter Sculpture
"Into the Storm"
by Peter Jackson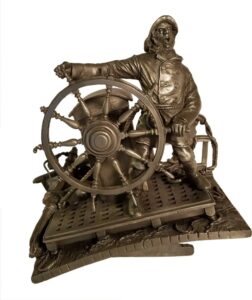 Dimensions
Base:   6 1/2″ x 4 3/4″        Ht:  7 3/4″      Wt:  6 lbs. 15 oz.
Presented is a fine pewter sculpture/diorama of a ancient sailor manning the helm in rough seas.  His ship is listing to starboard and he's lashed to the deck with a rope to his waist  and  a broken spar lashed to trhe deck to his right.  His expression appears to show him shouting orders to his crew into the wind.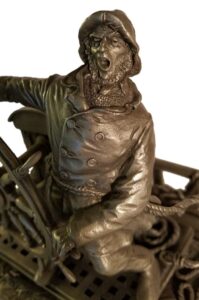 Right Side View                                                                                                      Left Side View
This piece is by artist –  Peter Jackson.  It was commissionmed by Franklin Mint and dated 1985.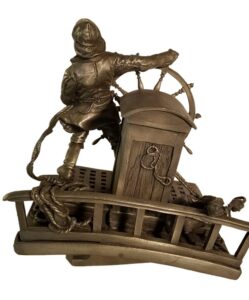 Back View
The sculpture is in fine condition except that it is missing a spoke on the wheel.
Price $145.00                 Shipping  $40.00