Dramatic Pewter Sculpture of Seaman
"Fire at Will"
 By Peter Jackson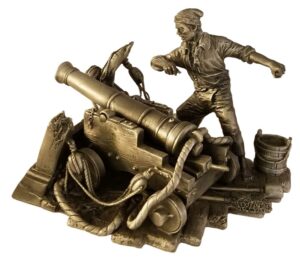 Dimensions
  Base: 8 3/4″ x 5 1/4″            Ht: 6″            Weight: 10 lbs. 13oz.
Presented is a fine and very dramatic pewter sculpture/diorama of an 18th-century seaman gunner in charge of loading and firing his shipboard cannon. The cannon is typical of the Naval cannons of the period on the classic naval style carriage.
      Side Views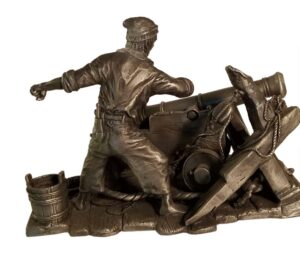 Back View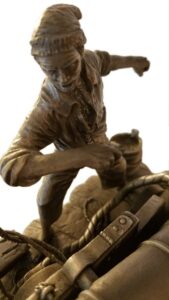 This is a very finely detailed piece down to the grain of the wood on the carriage. It was done by Peter Jackson for Franklin Mint and is dated 1987. It is in perfect condition showing all of the rigging and firing pieces for this cannon in excellent detail.
Price:  $150.00                        Shipping: $45.00