Beautiful Cabin Lamp
Very Unusual Shape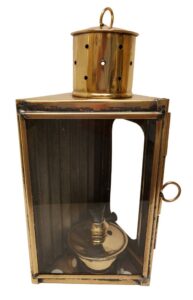 Presented is an unusual shaped maritime brass cabin light. This is a great example if you are looking for something for a nautical decor accent that will not be seen elsewhere.  We have not been able to identify the maker, but think it is likely that it has a British or Scottish heritage.  And if you are a collector, this is definitely unique.
Dimensions:  Back 7 1/2″,  Both Sides  6 3/4″               Overall Ht:  14 1/4″                Weight:  4 lbs. 4 oz.
It contains an oil or kerosene burner and a bracket on the backplate for wall mounting. The interior has a tin corrugated reflector plate in the back of the lamp.   It has been polished and lacquered for dramatic display.
Side Views
This fine lamp would add a very nice touch to any nautical decor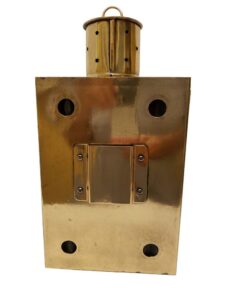 Back View showing mounting bracket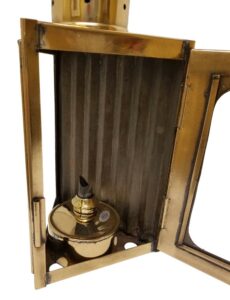 View inside of lamp showing corrugated metal reflector plate
Price  $650.00      Shipping   $45.00