Lithograph by Fred S. Cozzens  
1890 "The Illustrated American"
America's Cup Contenders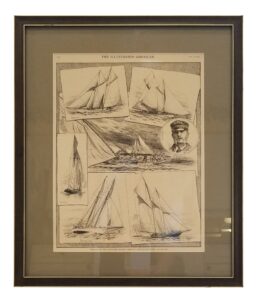 Dimensions
19 3/4″ x 15 3/4″
Presented is a nicely framed lithograph from the magazine, "The Illustrated American", dated 1890. It is by Fred S. Cozzens and depicts some of the contenders for the America's Cup race during that period. They include America, Grayling, Sachem, Iroquois, and Sea Fox. Commodore Gerry is also pictured.   Eldridge Gerry was Commodore of the New York Yacht Club.  He held office from 1886 to 1892. We believe this Litho represents some of the yachts that were trying out for the next Cup race during the period from 1887 to 1893 when the next cup race took place.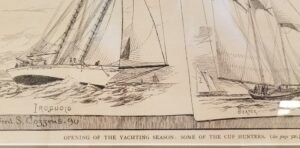 Frederick Schiller Cozzens (1846–1928) was an American marine artist.  He was primarily self-taught and specialized in depictions of famous ships and sailing yachts.  He was also a frequent illustrator for various books and publications including  The Daily Graphic, Harpers Weekly, Our Navy magazine, and others like " The Illustrated American" offered here.   His works are widely published and represented in several fine museums.
This fine lithograph would make a great gift and addition to a collection for those interested in the history of sailing or  America's Cup memorabilia.
Price $135.00                  Shipping $45.00