Series of 
Five Drawings of North Atlantic Liners by Laurence Dunn (1909-2006)
Lithographs Matted and Ready for Framing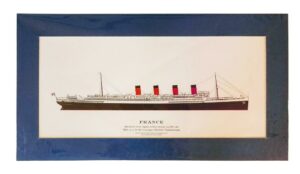 FRANCE – Built 1912 for the Compagnie Generale Transatlantique
Quadruple Screw express turbine Steamer  23,666 Tons

Dimension for each matted drawing:  Lgth – 22″ x  Ht  11 5/8″
Presented is a series of 5 vintage finely matted lithograph drawings (produced in 1961) of North Atlantic steamships by Laurence Dunn and published by Hugh Evelyn.  A man of encyclopedic knowledge, Laurence Dunn was a well-known marine artist and writer. He began his lifelong love of ships in Brixham, where he meticulously recorded passing traffic with the exquisitely accurate line drawings which later became a trademark. While studying at London's Central School of Art, his work was noticed by the Southern Railway, which commissioned profiles of its fleet, and this, in turn, led to work for Orient Line, where he also designed the well-known corn-colored hull, and later Thorneycroft, where he helped with shaping draft plans for a new royal yacht. During the Second World War, Dunn worked for naval intelligence at the Admiralty, where his technique did much to improve recognition standards, and greatly expanded his shipping clientele, becoming personally known to many chairmen.  Dunn wrote several books, starting with ship recognition titles that introduced new layout standards, but his best-known work was probably Passenger Liners, which was widely taken up by the travel trade.   In later life, Dunn designed several sets of shipping stamps for the Crown Agents, produced photographic volumes on Thames and Mediterranean shipping, and still found time to enjoy the passing Thames traffic.
Price $425.00                   Shipping: $45.00
EMPRESS OF BRITAIN – Built in 1906 for the Canadian Pacific Railway Company

Twin Screw Steamer 14,188 tons

BERGENSFJORD – Built in 1913 for the Norwegian America Line

Twin Screw Steamer 10,709 tons
Framed these fine steamship drawings would make a very dramatic and impressive presentation for office or boardroom.
IMPERATOR – Built in 1913 for the Hamburg-American Line

Quadruple Screw Turbine Steamer 51969 Tons

PRESIDENT GRANT – Built 1907 for the Hamburg-American Line

Twin Screw Intermediate Steamer 18072 Tons