Chesapeake Bay
Oyster Buy Boat Model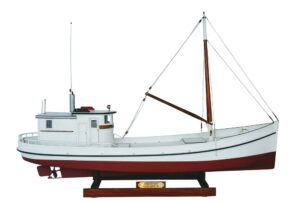 Presented is a beautifully done model of the classic Chesapeake Oyster Buy Boat.  This is a large model of this very fine historic Chesapeake Bay workboat. 
Model Dimensions: Overall Length: 37″       Beam: 9″        Draft: Deck to Bottom: 8″    Overall Ht. (Top of Mast)  25 1/2″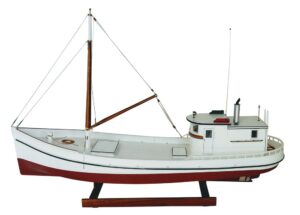 An Oyster Buy Boat is an approximately 40–90 foot long wooden boat with a large open deck that services the oyster tongers and dredgers.  The buy boats circulated among the Oyster harvesters collecting their catches, then delivering their loads to a wholesaler or oyster processing house. This spared the fishermen the task and its downtime, allowing them to catch more oysters. Buy-boats also bought seed oysters, or "spat" for planting in oyster beds.
Buy-boats saw their heyday in the first half of the 20th century when most oysters from the Chesapeake Bay were harvested by tongers in small flat bottomed rowboats (who used long tongs to pull oysters from the bottom) or dredged by sail-powered skipjacks.  Interstate highways, bridges, and tunnels such as the Chesapeake Bay Bridge and Tunnel and the Hampton Roads Bridge-Tunnel, and smaller bridges that span the many tributaries of the Chesapeake Bay were non-existent before the 1950s.  It was much faster to haul seafood to market by boat than by truck. Many buy-boat captains also used their vessels to transport freight such as fresh produce, grain, livestock, and lumber to market during the off-season from May to August when they were not buying oysters.
At the start of World War II, German U-Boats were wreaking havoc in the shipping lanes just off the Virginia Capes. Desperate to stop these losses, and lacking enough vessels to patrol the coast, the US government commissioned several Chesapeake Bay buy-boats for wartime service as patrol vessels to hunt for U-boats just offshore. These patrol boats were lightly armed with machine guns and were usually manned by their former owners and crew who were mustered into the service to operate them for the government.  When the war ended, the boats were returned to their former owners.
Only a few buy boats were built after World War II.  Today most oysters harvested from the Chesapeake are hybrid triploids raised in cages in aquaculture operations. Most dredgers who still harvest native oysters bring their catch directly to the docks themselves and seafood is hauled to distant markets in refrigerated trucks.  By 2013 only one buy boat, the Delvin K, operating out of remote Tangier Island, Virginia, was still buying oysters on the Chesapeake Bay, but many of these sturdy but largely obsolete wooden vessels remain afloat.  These have found completely new lives as museum pieces, yachts, floating classrooms, and dive charter boats in the Chesapeake Bay area and the Florida Keys.