A. Robinson & Co. Ltd.
Engine Room Telegraph  Ca 1920s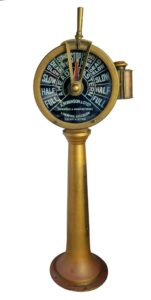 Presented is a full-size, two control, Engine Order Telegraph
for the bridge from A. Robinson & Co. Ltd. of Liverpool and Glasgow, whose operations date back to 1780. In 1968, Robinson was purchased
by the largest maker of these devices, Chadburn's, who at one time accounted for over 75% of the world's marine telegraph production
and is still in business today. They now make a diversified list of marine products.
Dimesions:  Overall Ht – 44″    Dia. of Face: 7 1/2″      Dia. at Base: 10 1/2″        Depth: 9 1/2:              Weight: 51 1/2 Lbs.
An engine room telegraph or E.O.T is a communications device used on a SHIP (or SUBMARINE) for the pilot on the bridge to order engineers in the engine room to power the vessel at a certain desired speed.  In early vessels, from the 19th century until about 1950, the device usually consisted of a round dial about 9 inches (230 mm) in diameter with a knob at the center attached to one or more handles, and an indicator pointer on the face of the dial.  A series of bells are emitted with each change of the settings on the dial.  The same bells would be sent to the engine room to notify the engineers of the change in orders.  The engineers would move the telegraphs dial to the same setting to acknowledge their receipt of the order.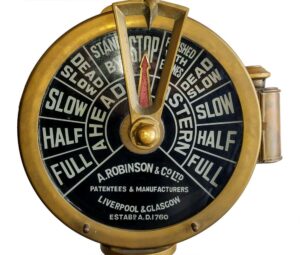 Traditional E.O.T.s required a pilot wanting to change speed to "ring" the telegraph on the bridge, moving the handle to a different position on the dial. This would ring a bell in the engine room and move their pointer to the position on the dial selected by the bridge. The engineers hear the bell and move their handles to the same position to signal their acknowledgment of the order and adjust the engine speed accordingly. Such an order is called a "bell", for example, the order for a ship's maximum speed, flank speed is called a "flank bell".
For urgent orders requiring rapid acceleration, the handle is moved three times so that the engine room bell is rung three times. This is called a "cavitate bell" because the rapid acceleration of the ship's propeller will cause the water around it to cavitate, causing a lot of noise and wear on the propellers. Such noise is undesirable during conflicts because it can give away a vessel's position.
Kerosene Lamp
This is a beautiful example from one of the most sought-after makers of Bridge Telegraphs.  An outstanding addition to any maritime or nautical decor.