Engraving 
Genealogical Tree of British Naval Victories 
by H. Innes
Dedicated to William the Fourth
Ca 1841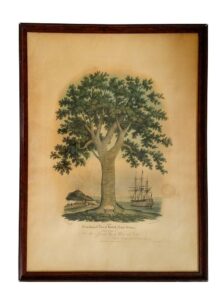 Dimensions:  Framed  31 1/2″ x 23 1/2″ x 1″              Viewing Area:  29 1/2″ x 21 1/2″           Weight: 10 lbs.
Presented is a very fine large engraving of a Genealogical Tree of British Naval Victories, with Lord High Admiral Charles Howard and the Spanish Armada.  The latest date appears to be 1827.  The engraving was published in 1841 by I beginning in 1588. W. Laird, 1 Leadenhall Street, London.
Close Up views of the engraving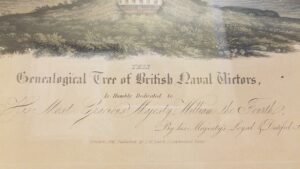 Inscription at the base of the tree
This
Genealogical Tree of British Naval Victories,
Is Humbly Dedicated To
His Most Gracious Royal Majesty William the Fourth
By His Majesty's Loyal & Dutiful Subject
Benjamin B. King
London, 1841.  Published by I.W. Laird, 1 Leadenhall Street
Brief History of  William IV:  William IV was King of the United Kingdom of Great Britain and Ireland and King of Hanover from 26 June 1830 until he died in 1837. The third son of George III, William succeeded his elder brother George IV, becoming the last king and penultimate monarch of Britain's House of Hanover.  "Sailor King" and "Silly Billy" were nicknames of William IV, one of the most unlikely British kings and the oldest to receive the crown at the age of sixty-four.  His rule proved to be productive, eventful, and more stable than that of his predecessors.  His early life was much like any other young royal; he was privately tutored in the royal residence, until at the age of thirteen when he decided to join the Royal Navy.  Whilst he was in the West Indies in the late 1780's he served under Horatio Nelson, the two men becoming very well-acquainted.  In 1788, he was given command of HMS Andromeda and a year later was appointed Rear-Admiral of HMS Valiant. It was for this reason that when he came to inherit the throne, he would become known as the "Sailor King".
William IV's reign, despite being relatively short was incredibly eventful. As he neared the end of his life, he engaged in a dispute with the Duchess of Kent, whilst attempting to forge a closer relationship with her daughter, his niece, Princess Victoria of Kent.  As his health deteriorated and the end of his reign was in sight, it would soon become clear that his young niece Victoria was set to become heir to the throne as he had no surviving legitimate children.  On 20th June 1837, his wife Adelaide by his side, William IV passed away at Windsor Castle. He left behind an eventful legacy characterized by reform, increased stability, and a blueprint for constitutional monarchy.
We have recently had the engraving cleaned and the backing reinforced with a board for stability.  It is under glass so is well protected.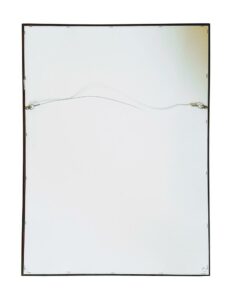 Back of engraving – showing reinforcing board and new hanging wire installation
Price $750.00                              Shipping: $155.00