Sklar Flare Gun – WW II Period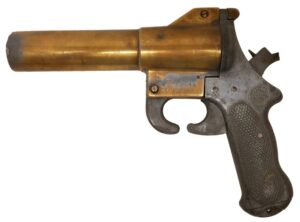 Presented is a Flare Gun by Sklar of  San Francisco  This is a WWII Design Sklar 37mm Flare pistol  The most common type of flare gun is a Very (sometimes spelled Verey), which was named after Edward Wilson Very (1847–1910), an American naval officer who developed and popularized a single-shot breech-loading snub-nosed pistol that fired flares (Very lights). They have a  single action trigger mechanism, hammer action, and a center fire pin.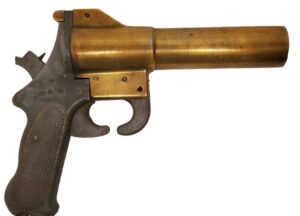 37mm WWII Era Skylar Signal Flare Pistol. Break open operation, featuring zinc construction. Embossed crosshatch on both sides .