US Naval Officers Full Dress Rig
Bicorn Hat, Belt and Epauletts

Presented is a beautiful Naval Bicorn hat, belt assembly, and pair of epaulets by
Hillborn Hamburger, Inc. of New York. 
Price:  $1200.00    Shipping:  $65.00
Sale Price:  $975.00
They are in extraordinarily fine condition for their age. The Cocked Hat was worn by officers with full dress uniforms commonly referred to as a "fore and aft" hat or bicorn. During the 1700s, the hat was worn
parallel to the shoulders, but in the 1800s was modified to be worn with the points to the front and back.
View showing top of hat from both sides
Wearing of
the Cocked Hat was discontinued on 12 October 1940 in the U.S. Navy. This hat is Beaver felt bound with gold bullion accouterments. On each end is a blue and gold tassel. These were worn with full dress uniforms in the 18th, 19th, and early 20th centuries by  U.S.Naval officers.  Finding an example in like-new condition is very rare.  As the use of these great uniform pieces cessed around the beginning of the First WW, these are likely at least 100 years old.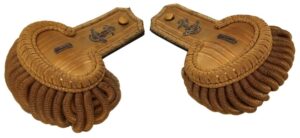 n
f
The epaulets are of the finest French spun
gold bullion with all the tassels in excellent condition only showing the desirable patina of age.   The one silver bullion
bar on  the shoulder is that of a lieutenant and a silver bullion anchor is behind precedes a button embossed with the American
eagle over crossed flags.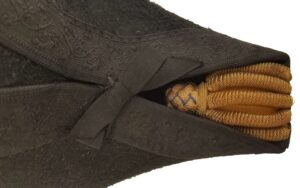 The underside is marked with right or left and is stamped with a very small "F B" stamp at the shoulder end, and "Made in France".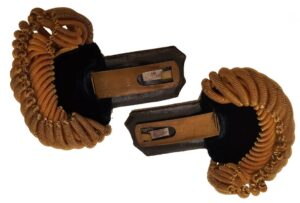 The bicorne or bicorn (two-cornered) is a historical form of hat widely adopted in the 1790s as an item of uniform by Europe and Amerian Army and Naval officers. Most generals and staff officers of the Napoleonic period wore bicornes, which survived as widely-worn full-dress headdresses until the 20th century.
The bicorne was widely worn until World War I as part of the full dress of officers of most of the world's navies. It survived to a more limited extent between the wars for wear by senior officers in the British, French, US, Japanese, and other navies until World War II, but has now almost disappeared in that context.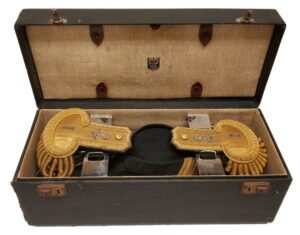 The uniform pieces are housed in a rectangular carrying case which shows some wear and tear, not surprising considering its age.