Lionel Corp. 4″
Small Boat Compass Ca 1940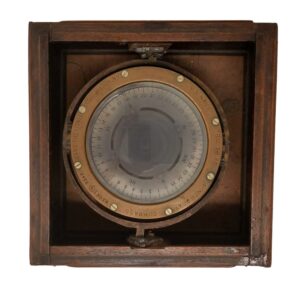 Presented is an early, 1940 U.S. Navy boxed small boat compass by Lionel Corporation of New York.

Price:  $650.00      Shipping:  $45.00

 The Lionel Corporation during WWII  suspended the manufacture of toy trains to join the war effort. This fine instrument is marked 4″ BOAT COMPASS /Mark I (N) No. 5342, 1940 / THE LIONEL CORPORATION N.Y, U.S.Navy  BU.Ships.;   The compass card is marked in 10-degree increments from 1 to 35 (to which you add the zero). It is held on a gimbaled mount in a finely finished box.  This is a liquid-filled compass, (with a small amount of liquid missing) and is working correctly.  Both the compass and the box are very handsomely done.
This very finely done compass is housed in a handsome finished box, which probably had a top at one time.  This is a very attractive piece and would be an exceptionally nice addition to any nautical decor or collection.
DIMENSIONS:  Compass   5 1/4″ W x 3 1/2″ D x 4″ face
Weight 6 lbs. 6 oz.
Wood Box: 8 1/2″ Square – 4 1/4″ depth