U.S. Navy Quarterdeck Bell
off the USS Piedmont (AD-17)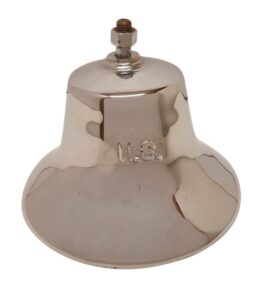 Dimensions:  Ht 7″
Diameter at Base: 8″
Wt: 6 lbs, 3 oz.
Presented is the first of these Navy bells (Quarterdeck rather than Foredeck) that we've had the pleasure to offer.
Price:  $850.00                  Shipping:  $55.00
The former owner of the bell acquired it as the ship was being decommissioned and transferred to the Turkish navy. We rarely know the name of the ship in which the bell served.  This fine bell is chromed bronze and in excellent condition. It has a lovely resonance, similar to our larger Navy Foredeck bells. There appears to be a name inside the bell which we assume was the manufacturer, "Loeffler". The Navy bells are becoming much more difficult to access in good condition, so we were pleased to be able to offer this fine one.
USS Piedmont (AD–17) was a Dixie Class Destroyer tender built during World War II for the U.S, Navy.  Her task was to service destroyers in, or near, battle areas and to keep them fit for duty. She served in the Pacific Ocean during World War II, the cold war, and the Korean and Vietnam Wars. For her work in battle areas, the ship was awarded four battle stars for her Korean War efforts and one for Vietnam War service.
USS Piedmont (AD-17)
The former owner of the bell acquired it as the ship was being decommissioned and transferred to the Turkish navy.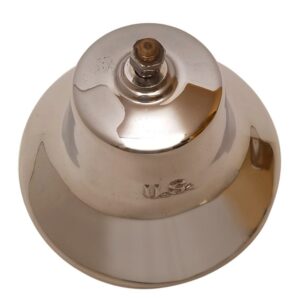 Top view

Inside Bell with Clapper
USS Piedmont had a very distinguished  Naval career.  For service in World War II, Piedmont earned the Asiatic-Pacific Campaign Medal and the World War II Victory Medal.
Piedmont earned the Navy Occupation Service Medal, Pacific, for the periods from 2 September 1945 to 24 February 1946, from 11 June 1946 to 2 February 1947, and from 12 September 1948 to 15 September 1948. Piedmont also earned the China Service Medal for the periods from February to 30 March 1947, from 2 to 10 March 1948, and from 16 May to 30 May 1950.
During the Korean War, she earned battle stars for: North Korean Aggression (25 September to 15 October 1950), Second Korean Winter (to 10 January 1952 and 6 to 7 February 1952), Korean Defense Summer-Fall 1952 (23 September to 3 October 1952 and 19 to 23 November 1952), and Third Korean Winter (28 to 30 December 1952 and 24 to 25 January 1953).
For the Vietnam War, Piedmont was awarded a star for Vietnam Ceasefire (29 June to 8 July 1972). Prior to decommissioning in 1982, the Piedmont was awarded for Battle Efficiency "E". This was a notable award after such a long service career.