Chelsea U.S. Navy Mark 1 Deck Clock
End of WW II Period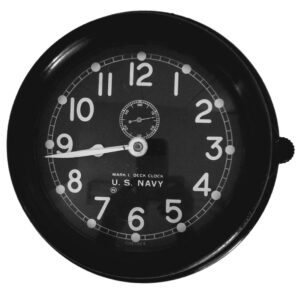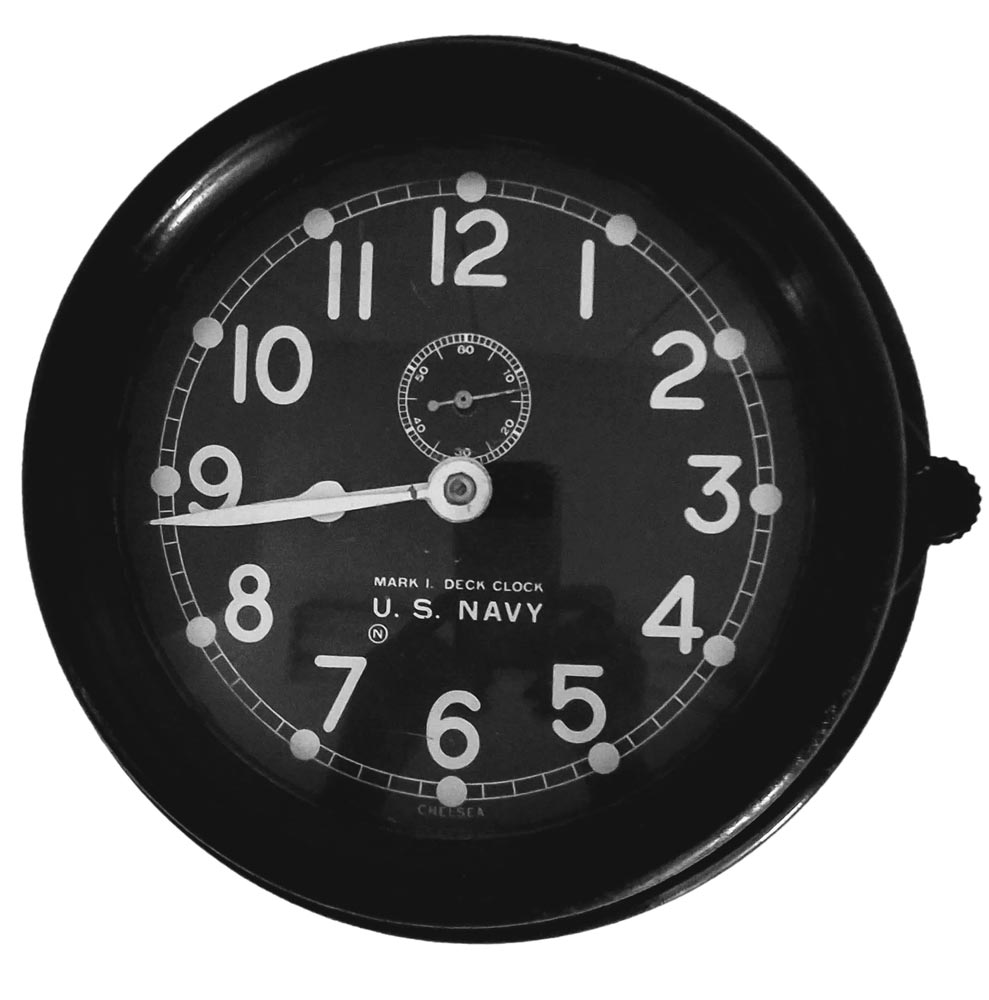 DIMENSIONS: 5 1/2″ Inside Diameter of face,  6 3/4″Outside Diameter of fase,   8 1/2″ Outside diameter of Backing Plate
Depth:  3 3/4″     Weight:  5 lbs. 3 1/2 oz.
Presented is a fine example of a Chelsea, back winding, Navy MK I Deck Clock in a phenolic black case with
a hinged front that is complete with a backing plate. The back plate with the clock acts as a watertight cover and shock absorber
and mounts the case to a bulkhead or wall. It is rare to get these clocks with their back cover plate.  The phenolic cases rather than brass were adapted for these clocks during the war due to metal shortages.  The Chelsea version of what was supposed to be a standardized
mil-spec design is more refined and has a different hinge arrangement than the thousands of chrome-plated clocks that
were made by Seth Thomas. This clock is in a black phenolic case that shows some use over its life.  This quarterdeck clock was also among the items removed from the USS Piedmont (AD 17) when she was decommissioned and sold to the Turkish Navy in 1982.  The movement, serial
number 495349 dates from 1945. It is keeping excellent time.  The clocks of this period right after WW II
were manufactured in accordance with military specifications 18C-11 and 18C -13. This Chelsea example has unique modifications. The front section holds the movement and has an integral stud on the backing plate that acts as the hinge.   In this design,
the back of the front section has all the controls.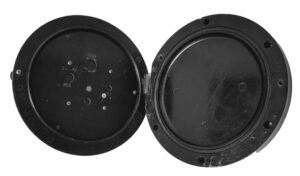 Open back of clock showing setting arbors
The following controls are accessed on the back:
Fast – Slow adjustment. To regulate
turn towards S to Slow and vice verso Stop – allows for
precision setting with master clock Set – moves hands.
These fine bulkhead clocks by Chelsea are a rare find, as is a clock of this age and service at sea to be found in this good working condition. It is perfect for a collector of military pieces or as an important gift.
Beneath the hand arbor is etched:
MARK I DECK CLOCK
U.S. NAVY
(N)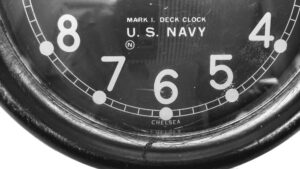 At the bottom of the dial, it is marked, Chelsea
  It has a Chelsea Model 17K,
11 jewel 8-day movement that is wound, set and stopped through a slotted dust cover at its rear which closes. A separate
start/stop mechanism allows it to be synchronized with a master timepiece.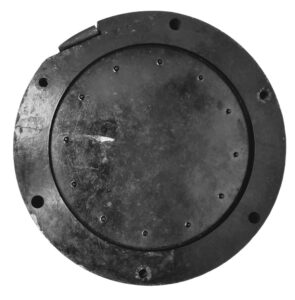 Side and Back views of Clock