Beautiful Diamond Pattern Sextant
by
Norie of London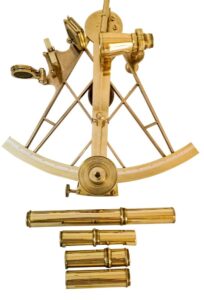 Presented is an exceptionally fine Sextant by Norie of London, dated approximately 1800 – to early 19th Century.  It is the first of these that we have offered with the very attractive Diamond design frame.  This is a beautiful museum equality instrument by a well-known maker of that period.  It has an approximately 3 1/2 power telescope, and a sighting tube for shooting terrestrial objects. The adjustable rising piece allows moving the telescope towards or away from the frame making the horizon more distinct under varying light conditions. The bronze arc has a Sliver insert that is calibrated -5 to +130 degrees with a vernier that reads from the right, from 0 to 10 arc seconds.  The sextant has four index shades and three horizon shades.
DIMENSIONS: Arc -5° to + 130°
Length of index arm     11″
Radius of arc    10 ″
Width of frame at arc    11 3/4″″
Index mirror    48 x 32 mm
Horizon mirror      26 x 27 mm ellipse
4 index shades 3 horizon shades
Weight  3 Lbs 93/4 oz. 
Weight in Case: 7  lbs. 15 oz.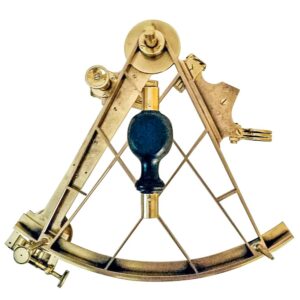 Back View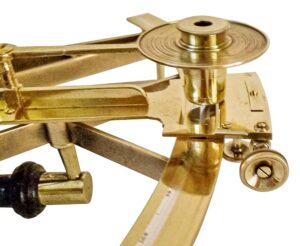 This fine instrument was made by John William Norie (1772-1843), a mathematician, hydrographer, chart maker, and publisher of nautical books, most famous for his Epitome of Practical Navigation (1805), which became a standard work on navigation and went through many editions, as did many of Norie's works. His known navigation instruments are few and normally found in museums such as the British National Maritime Museum in Greenwich, and the USS Constitution Museum in Boston.
Norie began his career working with William Heather, who had in 1765 taken over chart publishers Mount and Page, and who ran the Naval Academy and Naval Warehouse in Leadenhall Street from 1795; the Naval Warehouse provided navigational instruments, charts, and books on navigation. Norie took over the Naval Warehouse after Heather's retirement and founded the company J.W. Norie and Company in 1813. After Norie's death, the company became Norie and Wilson, then in 1903, Imray, Laurie, Norie & Wilson, Ltd. They continued in business as chart makers and were based in London until 1939, and are now headquartered in St Ives in Huntingtonshire.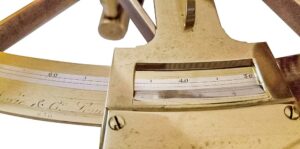 This very fine museum-quality instrument comes in a finely finish mahogany keystone case.  It has a small crack on the right top, but otherwise, is in excellent condition considering its age.  This beautiful sextant will make an exceptionally important addition to any collection of nautical history.