E.S. Ritchie Twin Cylindrical
Cross Beam Compass
DATED 1876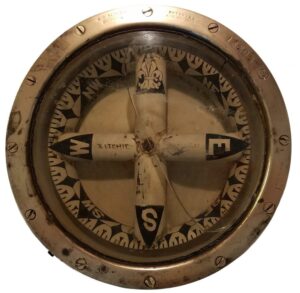 Dimensions:  Outside Dia"  8 1/2″   Dia of Ring:  6 1/4″   Depth:  4 3/4:     Weight:  11 lbs 7 oz.
Presented is a very early, E.S. Ritchie, Boston,  twin-beam compass. It is a very early compass design
with twin cylindrical cross beams on the cardinal axis.  This is a wet card compass, but as years have gone by, some of the liquid has drained away.  . Inside, the painted metal card shows only some minor paint loss. where the cylinders join the outside ring. The brass bezel has two patent dates, the earliest being April 1866 and May (date obscured).   There is also the date Nov 14, 1876, which was probably the date of the manufacture of this compass.
| | |
| --- | --- |
| | |
| | |
| --- | --- |
| | |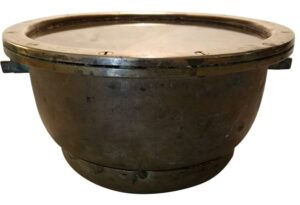 This 1/2 gimbaled antique compass is one of Ritchie's earliest designs.
The cross beams are air chambers and
allow the card to float with very little downward pressure on the center pivot when the fluid is present. This is a very
nice feature but makes for a very expensive compass for its time. It measures 8 1/2″ outside diameter
and is fitted with a 6 1/4″ card. The card has a curved outer ring which is hung at the center point.
This type mounting is in the form of what we have coined a "banana beam". It is unique
to this rare design.  The subdivisions are in Cardinal Points,
N.S, E, W, and quarter points, NE, SE, SW, NW, and then 1/2 points. There are 64 points on the compass card,
each being 5 5/8 degrees. MAGNETISM: Over the years magnetism diminishes, but this
card will still seek North, but a little slowly. Hence it is a functioning marine compass but is not intended for shipboard use at sea, but display enjoyment only.
This fine example if one of the earliest commercial compasses would make an important addition to any maritime collection or nautical decor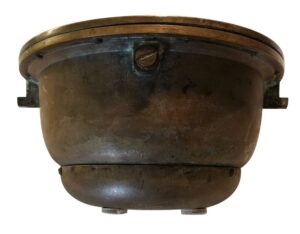 BRIEF HISTORY E.S. RITCHIE COMPANY, BOSTON: In 1850 physicist Edward S. Ritchie began developing the first
U.S. manufactured marine compass. He had received a contract to repair foreign-made compasses from the Boston Naval Shipyard,
and he soon realized most of the problems he encountered could be eliminated. So when the US Naval Observatory put out a call
for American Manufactured navigational instruments in 1861 it was no surprise who they contacted first. Ritchie completed and sent samples of his work (including the first-ever liquid-filled compass) in June of 1861 and by August,  he received an order from the US Navy for 26 compasses,
10 of which were liquid filled. At this time Ritchie began selling compasses under the name E.S. Ritchie & Co., which was
later changed to E.S. Ritchie & Sons in 1867. To this day E.S. Ritchie & Sons continues to produce marine navigation
instruments.  A model of Ritchie's first liquid-filled compass is on display
today in the Museum of Science in London, England; the only foreign product so honored. In 1951, the company was purchased by Marine Compass Company.
Louis A. Sherman founded the Marine Compass Company in 1910 and concentrated on producing smaller instruments for commercial
and fishing vessels as well as the emerging yachting markets. The two companies consolidated all operations under the name
E.S. Ritchie and Sons and is still owned and managed by the Sherman Family.