U.S. Navy Foredeck or Anchor Bell 
From USS Owen – DD-536 Fletcher Class Destroyer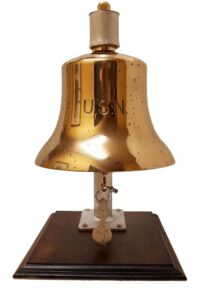 Dimensions: Overall Ht: 17 1/4″
Dia. T cROWN: 5 1/2″
Dia. at Base: 9 1/2″
Wood Stand: 14″ x 11″
Weight: 26 lbs
Presented is a U.S. Navy Anchor or Foredeck Bell.  When we acquire these wonderful bells, we rarely know what ship that they served aboard.  In this instance, the previous owner acquired the bell when the ship was decommissioned, and it has been in his collection ever since.  Along with this bell, we have the aluminum-painted award plaque (pictured below) that also came off the Owen.
USS Owen DD 536  Fletcher Class Destroyer
Owen (DD–536) was laid down 17 September 1942 by the Bethlehem Steel Corp., San Francisco, CA, launched  21 March 1943; sponsored by Mrs. Hope Owen; and commissioned 20 September 1943.  Owen, assigned to Destroyer Squadron 52, trained in Hawaii, she joined the Fast Carrier Task Force  (then called TF 58, as it was then part of the 5th Fleet)  for Operation Flintlock. Operating with the carriers throughout most of World War II, she escorted them to their objectives; screened them as they launched dive-bombing, strafing, and torpedo attacks; and covered them as they retired.  After the war, Owen was decommissioned in 1946 and berthed in San Diego.  She was recommissioned in 1951 for service in the Korean war, where she again had a distinguished career.
To accompany the Foredeck Bell

Dimensions:  36″ x 12″
Painted Aluminum Unit Award Plaque for USS Owen DD 536 for WW II and Korea prominently displayed on superstructure
Her namesake, Elias K Owen, born November 21, 1834, in Chicago, was a protege of Abraham Lincoln who took Owen to Washington to enter the U.S. Naval Academy at the age of 14, in 1848.  Eventually promoted to Commander in 1866, during the Civil War,r he served in the Mississippi Squadron commanding USS Louisville and a division of Admiral Porter's squadron.  After the Civil War, he commanded the Steam Sloop "Seminole" in Panama 1868-1869.
.
The previous owner of this bell acquired it after the Fletcher Class Destroyer was decommissioned in 1958.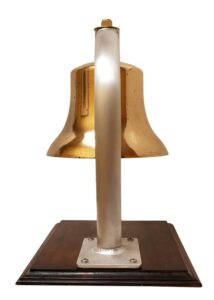 SPECIAL NAVY FORMULA BELL METAL: The tone of an authentic Navy bell, made using a special "bell metal" formula, is not easily forgotten. It has a strong resonance and vibration that rings sharp and clear with a distinctive sound. Do not expect cheap imitations or foreign imports to have this special characteristic ringing because "bell metal" is a specially formulated bronze alloy, unique to the Navy for their specialized use.   The original inverted vertical "J" bracket is missing and has been replaced with our proprietary brushed aluminum bracket. This allows the bell to be mounted as it was on a pedestal or deck, hence they are known as anchor or foredeck bells.