Life Ring from WW II Victory Ship
"Brandon Victory"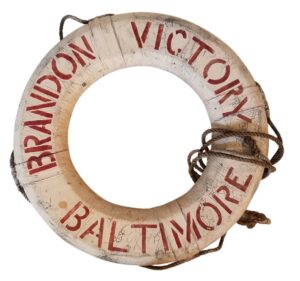 Dimensions:
Overall Dia.  30″         Width of Ring: 6 1/2″       Depth: 3 1/4″       Weight:  12 lbs.
Presented is a bit of Naval Ship history in the form of a Life-Saving Ring off of one of the "Victory Ships" that were so important during WW II.
"Brandon Victory", #650 VC2-S-AP2, was one of the "Victory Ships" built in American Shipyards during WW II as cargo ships for resupply of the war effort abroad.  They were built between 1944 and 1946.  They enlisted a number of different shipyards and built over 500 ships during that two-year period.   The ships were constructed under the Emergency Shipbuilding Program, and designed to go faster than the Liberty Ships, with a raised forecastle and a more sophisticated hull shape,  achieving 15 to 17 knots,  making them less vulnerable to U-Boat attacks.  They had some armament aboard and were manned by U.S. Navy Armed Guard personnel.  These ships and Liberty ships were essential to the resupply of Europe and the Far East during WW II.

Red Oak Victory
War Shipping Administration photo showing early 1944 Victory ship construction at California Shipbuilding Corp.,  with a May 1945 war tonnage production chart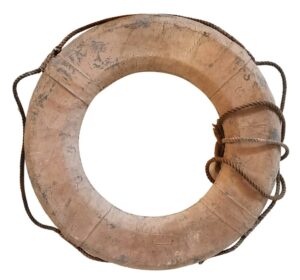 Back View
This fine WW II Life ring from the "Brandon Victory"  will make an interesting addition for collectors of War memorabilia or
for adding an interesting touch to a nautical decor.