Pelorus By Kelvin & Wilford O. White Co.
  Boston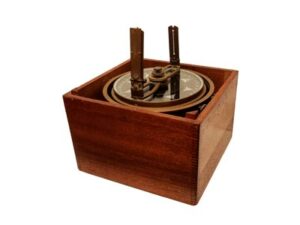 Presented is a large pelorus made by old-line instrument maker, Kelvin & Wilford O. White Co. of Boston.  It is housed on a gimbal inside a large wood case. Because of its size, we feel that this would have been installed on the bridge of a large ship.  We date this from early to mid-20th century.
The Pelorus was used to take relative bearings in determining a
vessel's position. These bearings are then related to the ship's heading and the compass bearing of the object sighted is
determined. Other applications are listed below:
Determine anchor security-  Determine relative bearings change –  Predict crossing situations –  Plot offshore fixes –  Determine compass error by celestial body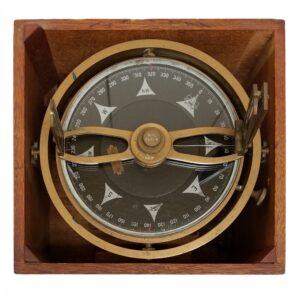 DIMENSIONS: Diameter of outer ring 11 1/2 inches
The diameter of compass rose 8 1/2 inches
CASE: 12″  square        Weight 21.5 pounds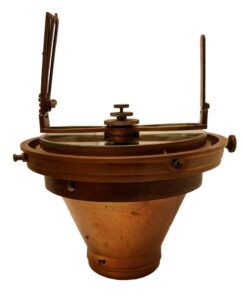 The word pelorus comes from the name of the guide who directed Hannibal's
army from Carthage to Rome in 218 B.C.
This example
consists of a compass rose with North in the form of a fleur-de-lis as the North indicator. The outer ring is enumerated
with bold numbers every 10 degrees with hash marks every 1 degree.
On the inner circle, the cardinal points have directional coordinates "lettered", N, S, E, & W. that are further subdivided
by NE, SE, SW, NW markings which divide the circle into 8 points, each of 45 degrees increments
 The compass rose is set inside a ring on gimbals
with a heavy lead weight in the bottom section so that it remains level during the ship's movements. Two sighting vanes move together. The viewer's vane has a sun shade attached. The forward vane had a hairline wire that is lined
up on the body. It also has a filter to reduce the brightness of the sun when taking amplitude sights. It is designed to be
used when mounted on a pipe stand on the bridge wings or may be used while in its wood case.
 The two sighting vanes are aimed at a terrestrial object
with the bearing read off the compass card. These bearings are simultaneously compared to the vessel's compass heading which
then gives the compass bearing to the object. Appropriate adjustment is made for compass error. Bearings of two objects, taken
sequentially, will fix the vessel's position. Similar observations of a rising or setting sun when on the prime vertical allow
for determining compass error.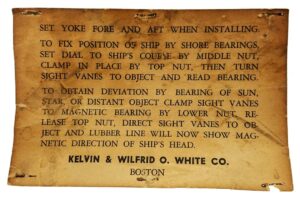 CONDITION: The case is in very good condition with some minor show of age.  The
pelorus shows little use and is in excellent condition.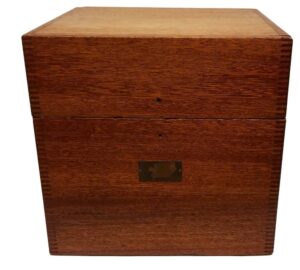 BRIEF HISTORY: Wilfrid O. White had a rich nautical family history, descending from a shipbuilding family that dated back to 1600 England. Born in Melbourne, Australia, White came to the United States in 1898 and married Ruth Eldridge, the daughter of George Eldridge, who charted the first tide and current tables in the U.S.
White had studied with the Scottish Lord Kelvin of compass fame for a year or more in Glasgow in the very early 1900s. Kelvin's work on magnetic compasses goes back to 1870, and the result was quickly adopted by the world's navies. After Kelvin died in 1907, White was chosen to be Kelvin's exclusive agent in the United States by Kelvin's successors and partners, Kelvin, Bottomley & Baird. The Kelvin & Wilfrid O. White and Co. commenced operations in 1918. White, reportedly, had to pay a LIST price, in advance with his orders. This became a thorn in Wilfred's side, and it ultimately led him to develop his own design improvements which were marketed under the Kelvin – Wilfrid O. White brand. He invented the spherical compass in 1931 and received his US Patent in 1935. His son Wilfrid Gordon later improved upon its design in the 1950s.
Price: $650.00                Shipping: $65.00