Decorative Mortar Cannon
Model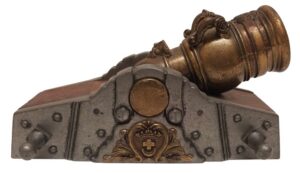 Presented is a highly decorative model of a mortar.  It is secrued in a solid wood and metal carriage, also with lifting pins at the four corners.  There are what we belive to be "Swiss Crosses" both on the carriage and mortar.  Besided the Swiss Cross on the mortar, there are a pair of Dolphins displayed and a face at the trunions.
Dimensions:       Lgth: 7  1/2″        Width:  4 3/4″                 Weight: 3 lbs. 3 oz.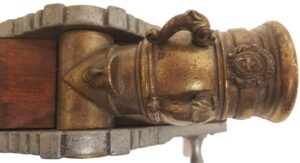 Top View
We've owned this model for a number of years in our personal collection and just recently decided to offer it for sale.   This is a static model and is not a working mortar.  It is quite good size and makes a very dramatic display piece for a den or office.  Our recollection is that the selection of model cannons we acquired were made in Spain.  There are no markings indicating the maker.