George H.W. Bush Commemorative Maquette
Presentation of the full-size Statue for the commissioning of the Aircraft Carrier USS Bush CVN-77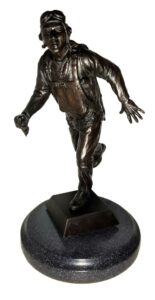 Presented is a  12″ maquette which was created to obtain the general feel for the project of creating a slightly larger-than-life full statue of Bush to be placed on the quarterdeck as a permanent display on the USS Bush CVN-77 Aircraft Carrier.  This bronze statuette of George H.W. Bush is mounted on a small bronze square and faux marble base.
Dimensions:   Ht:  16″    Wdth:  10″    Wt:  15 1/2 lbs.  
USS George H.W. Bush (CVN-77) is the tenth and final Nimitz-class supercarrier of the United States Navy.
The keel laying ceremony was held on 6 September 2003, with former president George H. W. Bush serving as the keynote speaker. Former First LadyBarbara Bush also attended with their daughter, Dorothy Bush Koch, the ship's sponsor. The former president authenticated the keel by chalking his initials onto a metal plate. His initials were then welded onto the plate permanently affixed to the ship.
| | |
| --- | --- |
| | |
USS George H.W. Bush carrier was commissioned on 10 January 2009 at Norfolk Naval Station prior to her official delivery to the Navy, in a ceremony attended by approximately 15,000 people. Veterans of USS San Jacinto, the ship George H. W. Bush served on during World War II, were also present. President George W. Bush delivered the principal address, George H. W. Bush set the first watch, and ship's sponsor Dorothy "Doro" Bush Koch gave the order to "man our ship and bring her to life!" A  GM-built Gruman TBM Avenger like the one then-Lieutenant junior grade George Bush flew in World War II performed a fly-over.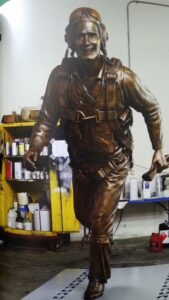 Northrop Grumman Corporation Builder's sea trials were completed on 16 February 2009, providing an opportunity to test systems, components, and compartments at sea for the first time. The trials included high-speed runs and a demonstration of the carrier's other capabilities. Following the builder's trials, the ship underwent acceptance trials on 10 April 2009, conducted by representatives of the U.S. Navy Board of Inspection and Survey, to test and evaluate the ship's systems and performance.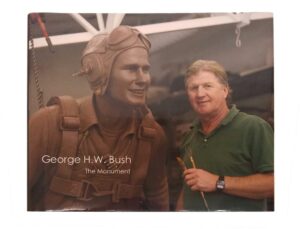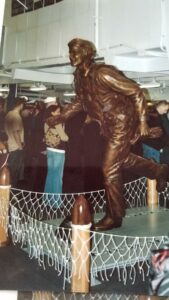 Full-Size Statue of the young  aviator George H.W. Bush installed on the Quarterdeck of the USS BUSH CVN-77
Accompanying the commemorative statuette of the young aviator, George H.W. Bush is the book about creating the full-size statue that would be aboard the carrier as a permanent installation.  The book covers the artist's creation of the statue and its presentation and installation at the time of the pre-commissioning ceremony.  There is also an extensive file about Bush's navy career and early life.
d