Chesapeake Bay Skipjack Model
"Captain Lee"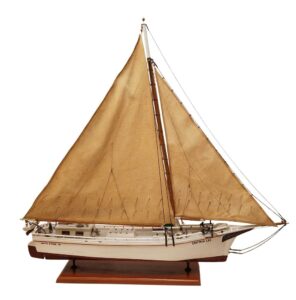 Presented is a fine model of the classic Chesapeake Bay Skipjack, "Captain Lee",  oyster dredging workboat.
Dimensions:  Lg-overall: 31 1/2″    Lg on Deck: 23″   Beam:  5″   Deck to keel: 4 1/2″   Base: 17″ x 6 1/4″
We don't know who made the model, but it was done by someone familiar with these iconic workboats.  The finish on the hull is not smooth but has a slightly rustic finish which would be in perfect keeping with the skipjacks that we've seen on the Chesapeake.  The boats were often built by the oystermen who worked them.  This is a hand-built "one-off" model.
The skipjack is sloop-rigged, with a sharply raked mast and extremely long boom (typically the same length as the deck of the boat). The mainsail is ordinarily triangular, though gaff rigged examples were built. The jib is self-tending and mounted on a bowsprit. This bowsprit sail plan affords the power needed to pull the dredge, particularly in light winds, while at the same time minimizing the crew required to handle the boat.
The hull is wooden and V-shaped, with a hard chine and a square stern.  To provide a stable platform when dredging, skipjacks have very low freeboard and a wide beam (averaging one-third the length on deck). A centerboard is mounted instead of a keel. The mast is hewn from a single log, with two stays on either side, without spreaders; it is stepped towards the bow of the boat, with a small cabin. As typical in regional practice, the bow features a curving longhead under the bowsprit, with carved and painted trailboards. A typical skipjack is 40 to 50 feet in length. The boats use direct link Edson worm steering gear mounted immediately forward of the transom.
Bow Sections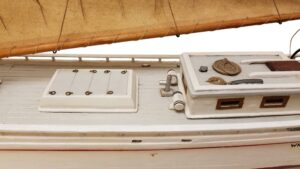 Mid Deck Section
The skipjack was designated the state boat of Maryland in 1985.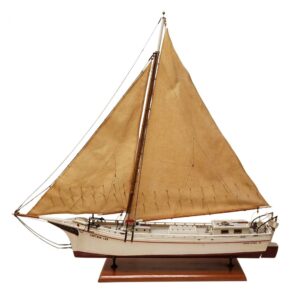 Portside view
At one time, the number of skipjacks produced is estimated at approximately 2,000; today, they number about 40, with fewer than half of them in active fishing. The future of the fleet remains in doubt as efforts continue to restore the productivity of the oyster beds.