Half Hull Model Variation
of A Beetle Catboat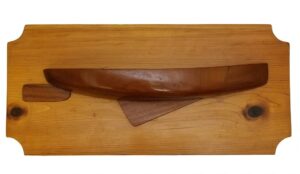 Dimensions:  Lgth on Deck: 19″     Beam:  3″     Draft wth Centerboard down:  4″          Backboard:  24″ x 11″    Wt:  5 lbs.
Presented is a very nice half-hull model of what we believe to be a Beetle Catboat. We think that the design most approximates the features of this fine and well-loved sailboat.  The half hull is mahogany and mounted on a pine board.
Detail showing rich wood grain

Showing deck view
The original Beetle Cat Boat was designed and built in 1921, and immediately began to appear along the shores of New England. Over 4000 of these boats have been built to date. The design of the Original Beetle Cat was taken from the old 20-30 foot catboats that were used for fishing in shallow waters along Cape Cod.
"Beetle 14"
The design has remained essentially unchanged over the years. The Original Beetle Cat Boat is 12ft-4″ long and is a design adaptation of the great Cape Cod Cats. The wide beam, with the rudder not extending below the bottom of the keel, and centerboard that lifts up, are features that lend this boat to shallow waters. It is a boat that can be beached. The six-foot wide beam makes it unusually stable and gives it a large carrying capacity.
This fine half hull model of the well-loved Beetle Catboat will make a great gift and addition to a nautical decor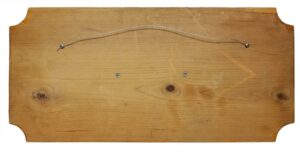 Back of mounting board