Very Large
Raymond Releasing Hook
& Wood Block
Presented is a very rare wood block and releasing hook that was in use during the early 1900s. One of its primary uses is for lowering a heavy boat, like a whaleboat or life-saving launch, into the water.  When the vessel or item being lowered hits the water, the hook releases as the weight comes off the line holding it, freeing the boat to move away from the vessel or dock.  Given the size and weight of this interesting piece, it would have come off a very large ship.
Dimensions:  Overall lgth: 24″            Width of Block: 6″               Weight: 19 lbs
This unusual tackle will make a wonderfully evocative addition to any maritime or nautical-themed decor.
Condition:  This piece is in perfect condition and the wood block is nicely finished.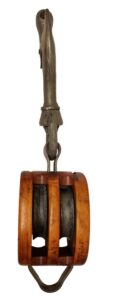 We're assuming the Raymond Corp. which is in business today as a material handling company, is the manufacturer of the hook.  They state that they have been in business for 95 years, founding the company in the 1920s.
The large block has a "B" and the number "55" imprinted.  We are unable to read a very faint bit of lettering over the star emblem on the block.