U.S. Navy  Bell 
with Upper & Lower Bands
WW I & II Era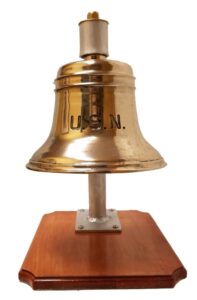 Presented is a beautiful U.S. Navy Foredeck or Anchor bell.  Based on its design with the ridges, we date the bell to  the World War One (WW I) period. However, because it has the U.S N. engraved, we think it was probably closer to the WW II period.  The original inverted vertical "J" bracket is missing, as is the acorn nut securing the clapper.  We've replaced the bracket with our proprietary brushed aluminum bracket. This allows the bell to be mounted as it was on a pedestal or deck, hence they are known as an anchor or foredeck bells.
DIMENSIONS: BELL: Diameter at crown 5
Diameter at mouth 9 3/5
Height to crown 6 3/4
Height overall 10 1/2
WOOD STAND: 14″ L x 11" x 1/2″
Weight: 25 1/2
These fine Navy bells with their wonderful resonance are becoming very difficult to find in good condition.  In this one, the original clapper was replaced with one that does not have the bottom hook, allowing for the attachment of a bell rope.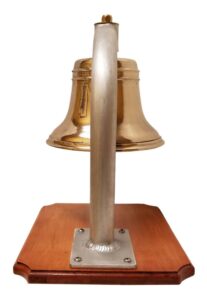 The bell has been polished and lacquered for dramatic display. It has an outstanding resonate ring and strong vibration.
This unique and rare US Navy bell will make a wonderful gift, presentation piece, or for a collection that includes only the finest.
The stand makes it ideal for display!
SPECIAL NAVY FORMULA BELL METAL: The tone of an authentic Navy bell, made using a special "bell metal" formula, is not easily forgotten. It has a strong resonance and vibration that rings sharp and clear with a distinctive sound. Do not expect cheap imitations or foreign imports to have this special characteristic ringing because "bell metal" is a specially formulated bronze alloy, unique to the Navy for their specialized use.