Top of the Line
Nautech Tamaya Sextant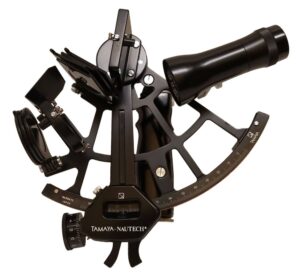 Model:  Spica MS 733
Serial No. 39475      Dated:  Nov. 10, 1976
The overall condition of this prestige sextant is excellent, actually showing zero wear or use.  This is a "Top of the Line" instrument for the professional or serious student who is seeking something special.  Tamaya Sextants are unique with their lighter-weight frames of aluminum but with the higher accuracy of a bronze arc. This is a "best of both worlds" choice.
 We are very pleased to present this pristine 1976 Nautech Tamaya Spica sextant, Serial Number 39475, with a 4 x 40 star scope.
We marketed this instrument 46 years ago to a gentleman whose son presented it to us.  He said that his dad had enjoyed teaching celestial navigation among other interests.  We were directly involved with Tamaya during those years, and my company, Nautech Maritime Corporation, was instrumental in the design and introduction of their MS 733 SPICA, MS 833 Jupiter, and MS 933 Venus sextants, and the famous NC 2, and NC 77 navigation computers.
The new Spica M 733 sextant currently retails for just under $2000 with this scope.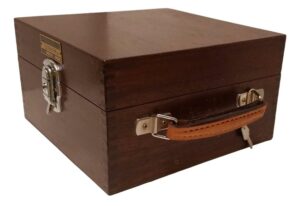 The case is also in excellent condition
Case Measurement:  11″ x 11″ x 6″        Weight with Sextant:  8 lbs. 11 oz.
USING SEXTANT TELESCOPES:
4 x 40 is considered a STAR Scope because it transmits more light through the optics than higher-powered scopes. Its wider field of vision is an advantage in low light conditions.
SEXTANT & CASE CONDITION: Irrespective of age, the overall condition is excellent. The lighting works. All moving parts turn freely. Nothing is broken.  There is a tiny clouded spot on the Horizon mirror but other than that, this is a perfectly like new instrument.  Mirrors are perpendicular to the frame.  The sextant's paint on the frame is as new. All the numbers match. This sextant is in excellent condition.