Desco Navy Mark V Dive Knife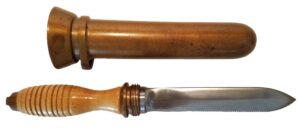 Steel, bronze
& wood
Made 20th Century
Overall Dimensions
Knife 13 3/4″ in sheath                 Blade 6 7/8″x 1 x 1/8              Hilt 6″ x 1 1/4″        Weight: 3 lbs. 3/8 oz.
Presented is a very good example of a Navy MK V dive knife that was made by Desco of Milwaukee. Wisconsin.
 The maker's name is imprinted on the belt loop on the sheath.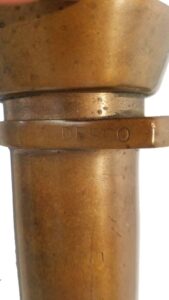 The bronze sheath is in like new condition. The maker's imprint is distinct. The wood grip has most of the varnish, which appears to be original. The blade is tight in handle and extends to the pommel cap. The blade is in perfect condition. The upper edge of the knife blade has saw teeth while the lower edge has a very sharp knife edge.
DESCO was first organized in
1937 in Wisconsin under the name Diving Equipment and Salvage Co.  Its founders included a professional
deep water diver, a Hollywood producer specializing in underwater photography, and a medical doctor who was a research scientist
at Marquette University. This team successfully worked together in developing a deep water diving suit combined with
a helium-oxygen breathing mixture which resulted in DESCO divers setting two successive deep water records of 420 and 550
feet.  World War II brought
large Navy contracts for diving equipment to DESCO. They included conventional hard-hat gear for the navy
and the design, development, and manufacture of an oxygen rebreather, known as the "B Lung. By V-J Day, DESCO was
producing more diving equipment than any other company in the world. In 1946 the company
was sold to another group of Milwaukee businessmen and changed its name to Diving Equipment and Supply Co., Inc.
After the Korean War, which again brought an increase in U.S. Navy contracts and orders, the ownership changed hands several
times and has since concentrated on the design and manufacture of commercial and U.S. Navy diving equipment. In 1968 it moved to
its present address at 240 North Milwaukee Street in Milwaukee. Today, DESCO continues providing quality diving
equipment. For the past twenty years, it has been under the leadership
of Ric Kholner who has done a fine job in building on the company's diving heritage.