1898 U.S.
Bronze Signal Cannon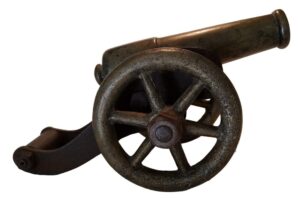 Presented is an impressive bronze field signal cannon on  bronze wheels and steel carriage.  The barrel is engraved with the imprint "U S"   and 1898.  We don't have any specific provenance on this fine post-Civil War piece, but there are definite indications of much use over the years.  The barrel and wheels are bronze and the carriage is steel.
DIMENSIONS:
Cannon & Carriage Length 12″″
Length barrel 7 1/2″
Bore 3/4″ or 75 Cal
Maximum Width at Trunnions: 1 3/4″          Width at Muzzel: 1 1/2″
Carriage Lth: 9″       W x 5 1/2″″     5 1/4″ wheels
Weight: 13 lbs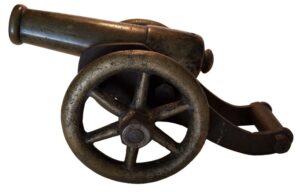 Signal cannons were used to make salutes, warn of danger,
and attract attention in the case of an emergency. They were also used to start races.  These cannons were
generally cast in the style of the period to which they belong.
This exceptionally fine example is being sold for
display purposes only. No attempt should be made to fire it without inspection by a gunsmith.