Pocket or Box Sextant
By T.Cooke & Sons, Ltd of London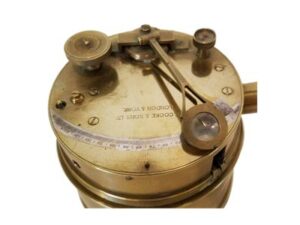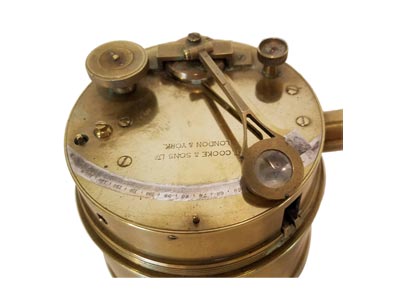 Presented in an unusual Pocket or Box sextant by the renowned instrument maker T. Cooke & Sons, Ltd. London & York.   In 1855 Cooke exhibited at the Exposition Universelle in Paris and won a First Class Medal for a 7.5-inch equatorial refractor. By 1855, Thomas Cooke had built a factory at Bishophill in York.   In 1915, Vickers acquired a controlling stake in the company, and in 1922, Vickers merged it with Troughton & Simms to form Cooke, Troughton & Simms.
The circular brass cup that when screwed on the base that serves as a handle. Index arm moved by a milled knob in the upper plate. Two index shades red & green moved by levers, no horizon shade.  The magnifier on a single swiveling arm attached at the pivot also hinges up. Pinhole sight fitted on long sighting tube.  (We were unable to view through the lens cap, although when the cap is removed, you can see through the tube).  Inlaid silver arc measure from 0 to 140 in 10-degree increments. Index arm in 10 20 30 increments. T. Cooke & Sons, Ltd, London & York engraved under the arc.
Pocket Sextant measurements:
Diameter: 2 3/4″      Depth in base: 2 1/2: on base    Wt: 1 lb. 3/4 oz.3 oz
This is an exceptional and very collectible gift for the mariner who appreciates the history of navigation and seamanship.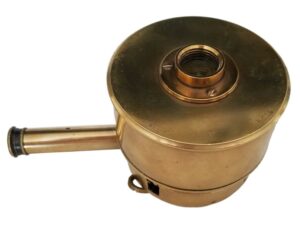 The underside of the base has a grooved fitting which probably accommodated a handle at some time.
Close-up of arc                                                                                                            Two Components separated