Brass Mushroom Style
Small Boat Binnacle by E.S.Ritchie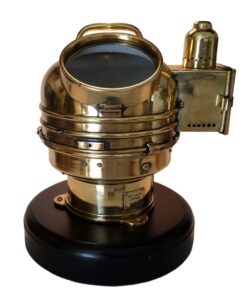 Presented is a lovely early-period small boat brass binnacle, the perfect size for office, den or any nautical interior. It is a working compass so would also be adaptable to offshore use. Although there are no obvious manufacturer marks on the housing, we're confident that the ES refers to E.S. Ritchie. The compass face is clearly marked E.S. Ritchie.
Polished brass small boat binnacle reads "PATT 1151A Compass" on front. The Alcohol filled compass card measures 3 ⅞", is marked in 10-degree increments, and is operating correctly.  There is a side burner (the lamp is missing) with a screw-on vented top.  The front window flips open.  Both the compass and the very heavy bronze base have the number 9769W.  This fine instrument is mounted on a substantial wood base.
 The front window flips open.    The top of the compass fits snugly in the grooved holder and is easily carried from the top handle.   The top of the binnacle swivels off to the left.
We haven't been able to date the binnacle, but think it is probably early 20th century.  We think the design lends itself more to that period.  And because it is an unusual design it has a personality and character all its own.
Dimensions: 11″ H x 10" W x 7 ½" D
Weight: 12 ½ lbs.
If you are not wishing to use this compass at sea, it would be a  lovely small (but quite heavy)  desk or table compass,
adding flare to any nautical decor.
E.S. RITCHIE, BOSTON:
In 1850 physicist Edward S. Ritchie began developing the first U.S.-manufactured marine compass. He had received a contract to repair foreign-made compasses from the Boston Naval Shipyard, and he soon realized most of the problems he encountered could be eliminated. So when the US Naval Observatory put out a call for American Manufactured navigational instruments in 1861 it was no surprise who they contacted first.
Ritchie completed and sent samples of his work (including the first ever liquid-filled compass) in June of 1861 and by August he received an order from the US Navy for 26 compasses, 10 of which were liquid filled. At this time Ritchie began selling compasses under the name E.S. Ritchie & Co., which was later changed to E.S. Ritchie & Sons in 1867. To this day E.S. Ritchie & Sons continues to produce marine navigation instruments.
A model of Ritchie's first liquid-filled compass is on display today in the Museum of Science in London, England; the only foreign product so honored.