Half Hull Model
of the Royal Yacht Britannia
1893

Dimensions:  42″L  x 11 1/2″W  x 3 3/4″ Depth
Weight: 10 1/2 lbs.
Presented is an exceptionally fine and beautifully decorative Half Hull Model of the Royal Yacht Britannia Ca 1893. This presentation Model was done by American Marine Model Gallery, artist Peter Ward.
 His Majesty's Yacht Britannia was a gaff-rigged cutter built in 1893 for RYS Commodore Albert Edward, Prince of Wales. She served both himself and his son King George V with a long racing career.
Britannia in the 1890s
Britannia was launched on 20 April 1893, a week ahead of Valkyrie II, and joined a fleet of first-class cutters that was growing fast as others followed the royal lead. In a highly competitive fleet, Britannia soon set about achieving the race results which would eventually establish her as the most successful racing yacht of all time.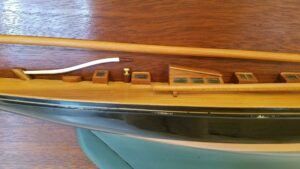 By the end of her first year's racing, Britannia had scored thirty-three wins from forty-three starts. In her second season, she won all seven races for the first-class yachts on the French Riviera, and then beat the 1893 America's Cup defender Vigilant in home waters.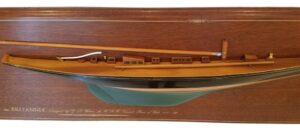 Despite a lull in big yacht racing after 1897, Britannia served as a trial horse for Sir Thomas Lipton's first America's Cup challenger Shamrock,  and later passed on to several owners in a cruising trim with raised bulwarks. In 1920 King George V triggered the revival of the "Big class" by announcing that he would refit Britannia for racing. Although Britannia was the oldest yacht in the circuit, regular updates to her rig kept her a most successful racer throughout the 1920s. In 1931, she was converted to the J Class with a Bermuda rig, but despite the modifications, her performance to windward declined dramatically. Her last race was at Cowes in 1935. During her racing career, she won 231 races and took another 129 flags.

Back of the Half Hull Model
King George V's dying wish was for his beloved yacht to follow him to the grave. On 10 July 1936, after Britannia had been stripped of her spars and fittings, her hull was towed out to St. Catherine's Deep near the Isle of Wight, and she was sunk by HMS Winchester, commanded by Captain W.N.T. Beckett.  RN.