Set of Miniature Plotting Tools of Whale Ivory
in Sharkskin Covered Wood Case
19th Century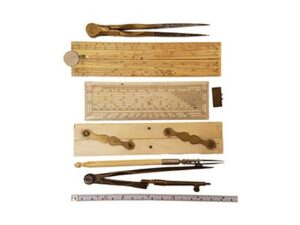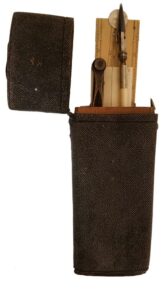 Case measurements:  6 1/2″ Ht                  2 3/4″ Width
Sharkskin Case
Presented is a very unusual set of navigation plotting tools miniaturized and fitted in an elegant sharkskin-covered wood case.  The case has brass fittings and is exceptionally well made with a brass plaque on the top for an inscription.  The quality of this collectible indicates it was done by an accomplished retailer of very finely finished pieces.  However, there are no markings indicating the maker.  There is a mark on the back of one of the plotting devices "S G du Toit – but we think that may have been the owner.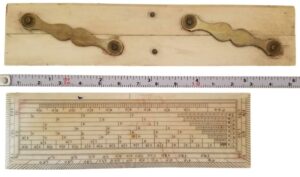 The various rulers measure between 5 and 6 inches.
The protractor has a broken arm, and we are unsure how all the pieces fit together. There is also a small rectangular piece with two tiny prongs; we have no idea what that is for.  The interior of the case is wood dividers and shows its age. The sharkskin cover is slightly mottled with age as well.  However, the construction of the case is very sturdy.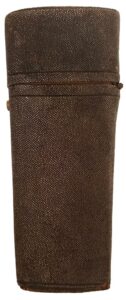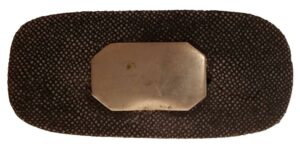 Top of Case
This fine piece is a museum-quality collectible for the very discerning owner who appreciates the unusual
Price:  $1100.00                     Shipping:  $45.00