Beautiful Double Frame Sextant
by Crichton of London
Ca.  The early 1800s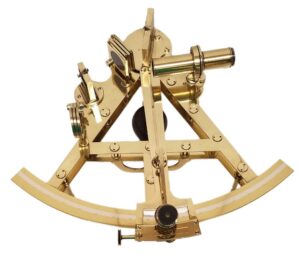 Presented is a beautiful polished brass 20-pillar double-frame sextant with a mahogany handle by John Crichton of London.  The double-frame brass sextants are especially beautiful and dramatic examples of this period. In good condition, they are becoming harder to find. This design was originally patented by Edward Troughton in 1788 and was popular during the early 1800s with examples by Troughton & Simms and Jesse Ramsden.  Crichton was one of the early manufacturers of sextants during that period.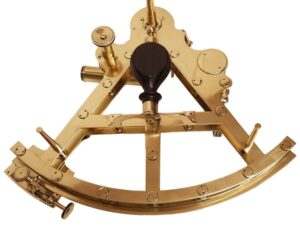 Back View
DIMENSIONS: Arc -5° to + 140°
Length of index arm     9  3/4″
The radius of arc    10 ″
Width of frame at arc    11 1/4″″
Index mirror    48 x 32 mm
Horizon mirror      23 x 12 mm ellipse
4 index shades 3 horizon shades
Weight  2 Lbs 14 oz
. Based on the work of Alan N. Stimson of the National Maritime Museum at Greenwich, England in 1976, we date it early to mid-1800s.  The arc subtends an angle of 140 degrees which classifies it as a quintant. Since brass is much stronger and more rigid than wood, it became the material of choice for sighting instruments.  Double-frame sextants were expensive to make and never gained the popularity of the more common single, cast-framed instruments. Consequently, they infrequently come to market, and we are always very pleased to be able to offer them.
Industrial art at its finest and an outstanding presentation piece for those who especially appreciate early maritime history
Engraved Arc -Crichton – London
This fine instrument does not have a case.  Also, there is no certificate which is customary with very old instruments.
Although we don't have any specific history on John Crichton other than the early association mentioned in "Sextants At Greenwich", here is the background on Edward Troughton, the original designer of this instrument.
HISTORICAL BACKGROUND:  Edward Troughton, FRS (October 1753 –
12 June 1835) was a British instrument maker who was notable for making telescopes and other astronomical instruments.
Troughton was born at Corney, Cumberland. In 1779, after serving
an apprenticeship with his elder brother John, he became his partner and soon established himself as the top maker of navigational,
surveying, and astronomical instruments in Brittan. In 1795 he delivered the Troughton Equatorial Telescope
to the Armagh Observatory, a 2-inch aperture refractor telescope mounted equatorially, and its first major instrument since
its founding in 1790 (It survived into the 21st century also). [2] He created the Groombridge Transit Circle in 1806, which
Stephen Groombridge used to compile his star cataloger.[3] He did not merely build instruments but designed and invented
new ones such as his double-frame instrument of 1788. Troughton was awarded the Copley Medal of the Royal
Society in 1809. He was elected a Fellow of the Royal Society in March 1810. In
1826, after John's death and in failing health himself, he took on William Simms as a partner, and the firm became known
as Troughton & Simms. Troughton was color blind. On his death in 1835, he was buried in Kensal Green Cemetery.
TROUGHTON & SIMMS,
THE SUCCESSOR: Troughton & Simms was a British
instrument-making firm, formed when Edward Troughton in his old age took on William Simms as a partner in 1826. It became a limited company in 1915, and in 1922, it merged with T. Cooke & Sons to form Cooke, Troughton & Simms. The firm produced
hundreds of astronomical instruments such as mural circles, transit circles, sextants, and other astronomical instruments
for observatories around the world. Previously, Troughton had
been a sole proprietor, and before that, he was in partnership with his brother John. John died and Edward took on Simms in
1826. Edward Troughton died in 1835.   In 1924 the
company became a wholly-owned subsidiary of Vickers; it continued in the instrument business until 1988.  Refs. This maker
is listed in Sextants at Greenwich", and "Sextants at Greenwich" by W.E.J. Mozer Bruyns, which
catalogs the collection of the British National Maritime Museum at Greenwich, England. And in The Influence of the Royal Observatory at Greenwich upon the
Design of 17th and 18th Century Angle-measuring Instruments at Sea", 20 Vistas in Astronomy, 123-130 (1976), Alan N.
Stimson of the National Maritime Museum at Greenwich, England.
CERTIFICATE: There is no certificate which is customary with very old instruments.