Rare and Unusual
Tulip Pattern Sextant
Mid 19th Century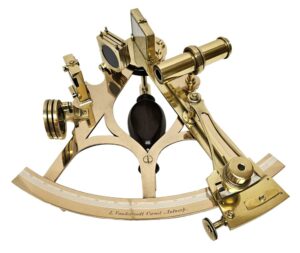 Inscribed
"L. Vandervoodt Cornet  Antwerp"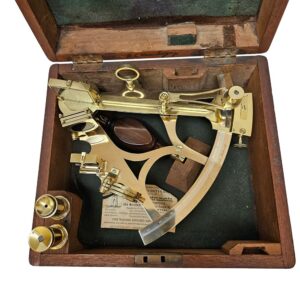 Presented is a beautiful brass sextant with a "Tulip" design frame.  In our research, we were only able to find one example of this design, also inscribed on the arc with a name that was thought to be the seller rather than the manufacturer.  In this instance, we think the inscription either represents the original owner or seller of this fine piece.  The label in the case indicates the retailer, Duren & Costigan – Nautical Instruments Dealers of New York, established 1855.  (Most likely, not the original seller) The other instrument we found similar to this one was thought to be from that same period.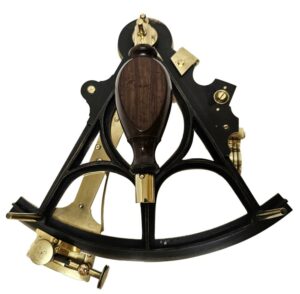 Back side of Instrument
DIMENSIONS: Arc -5 to + 135 degrees
Length of index arm 9 1/4″
Radius of index arm 7 1/2″
Width of frame at arc 9 3/4″  Index Mirror 36 x 45 mm
Index
Horizon mirror 26 x 28 mm
Instrument weight 2 lbs 13 oz
Case 10 3/4″" X 9 1/2″ x 5 1/4″        Weight in case 6 lbs 2 oz
Index Mirrors and Shades                                                                                   Sighting Scope
Advanced design features include a larger-than-normal horizon mirror
and Index mirrors both of which gather more light, and hence improve the taking of twilight sights. Included are a telescope and a sighting scope.   In addition, there are four Index shades and three horizon shades. A magnifier swings on a post over the vernier scale, which reads to ten arc seconds from the right. The frame's design makes a strong
and rigid frame. The handle is turned from Rosewood. The polished platinum scale is calibrated -5 to +155° with a vernier scale reading from the right from 0 to 15 arc seconds in arc second intervals. The sextant has four partially rounded shades for the index mirror and three round shades for the horizon mirror.
This fine instrument has been recently
lacquered and polished for display and is a beautiful very collectible example of mid-19th century navigation technology.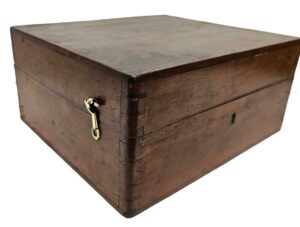 The exterior of the Mahogany case appears to have been refinished, with a muted shine polish.  All of the age of the case appears in the interior.