Frodsham & Keen of Liverpool
Sextant/Quintant
Early 20th Century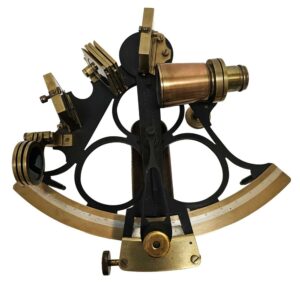 Presented is an antique quintant, meaning a sextant having a range of 144°, or an arc of 72°, by Frodsham and Keen of Liverpool, England, dated October of 1920.
(There is an identical instrument by this constructor shown in" Sextants At Greenwich" from the National Maritime Museum, Greenwich, England.)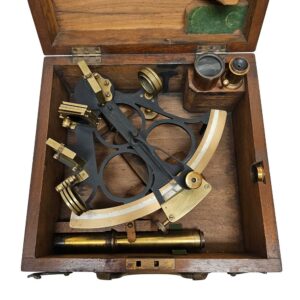 This fine instrument has a rare three-circle frame. This is the second Frodsham & Keen Sextant that we've been able to offer for sale,  It comes with a star scope, a collimation scope, and a sighting tube for shooting terrestrial objects, as shown housed in the case pictured above.
The bronze arc is calibrated -5 to 140+ degrees with a vernier that reads from the right, from 0 to 10 seconds of arc. The sextant has four index shades and three horizon shades.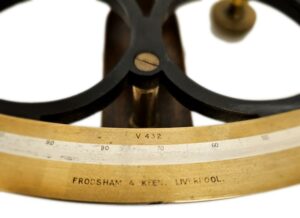 Inscription "Frodsham & Keen  Liverpool"
The instrument is housed in a fitted wood-carrying case with brass hardware. The case is in good condition with a nicely aged finish. There is a crack across the top. One would expect to find evidence of use at sea in the form of scratches, small chips, and age cracks mentioned only to be complete. This is a very fine example of the Sextants/Quintants of the period. It will make an excellent addition to an important collection or as a gift of importance.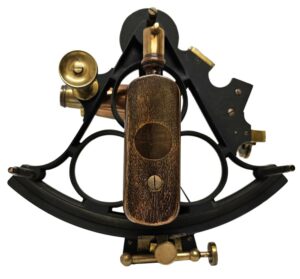 Back of Sextant
This  sextant/quintant is a very fine example of the period, making it ideal for the serious collector or as a presentation gift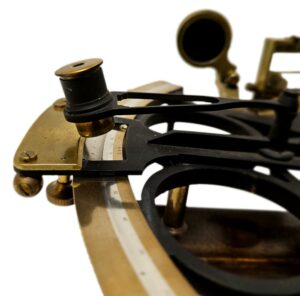 View of the Index and Horizon Mirrors, and six shades
QUINTANT / SEXTANT:
Star scope, Collimation scope, Sighting tube
Length of index arm   9 1/4″
Width of arc                10 1/2″
Diameter  1 circle         2 1/2″ ID Index
Mirror                 47 mm x 30 mm
Horizon Mirror             32 mm x 22 mm
SEXTANT WEIGHT    3 lbs 9 oz
Case: 10 1/4″ x 10 3/4″ x 5 1/4″               Weight in Case:  8 lbs. 10 oz.
Hezzanith Observatory Certificate and Case