Spencer, Browning & Rust London
Double Frame Brass Sextant/Quintant
Early to Mid 19th Century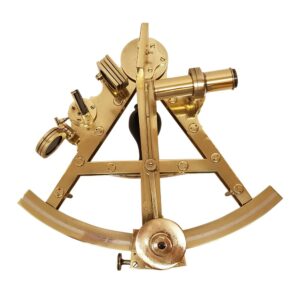 Industrial art at its finest and an outstanding presentation piece for those who especially appreciate early maritime history
Presented is a beautiful museum quality polished brass 18-pillar double-frame sextant with an ebony handle by Spencer Browning & Rust London.  This fine company is known to be one of England's foremost instrument makers, and they were highly successful during their years in business. We have been pleased to offer their fine sextants/octants over the years,  but this is the first double-frame Quintant that we have acquired.  Most of our beautiful double-frame instruments have been from Troughton & Simms.
Since brass is much stronger and more rigid than wood, it became the material of choice for sighting instruments.  Double-frame sextants were expensive to make and never gained the popularity of the more common single, cast-framed instruments. Consequently, they infrequently come to market, and we are always very pleased to be able to offer them.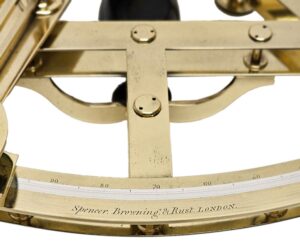 Engraved Inscription – Spencer, Browning & Rust  London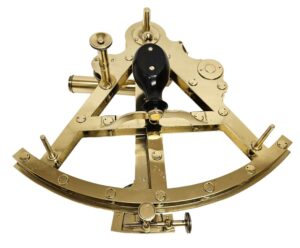 Back View of Sextant/Quintant
This fine instrument is well housed in a Keystone Case with Labels from David Baker, Mathematical Instrument Maker, New Bedford, and Charles Pace, Chronometer and Watch Manufacturer, San Francisco.  (For detail photo, see below)  We assume these were both resellers of this fine instrument, arriving aboard ships in these towns with owners/officers (often the Captain of the ship) wishing to sell or trade them.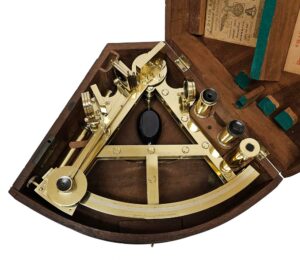 DIMENSIONS: Arc -5° to + 140°
Length of index arm     10″
The radius of arc    12 1/4″
Index mirror    48 x 32 mm
Horizon mirror      23 x 12 mm ellipse
4 index shades 3 horizon shades
Weight  3 Lbs 
Spenser Browning and Rust were prolific and very successful makers of Octants, Quintants, and Sextants from the last half of the 18th Century and the first half of the 19th Century.  William Spencer and Samuel Browning joined their businesses in 1778.  Ebenezer Rust joined them six years later with the firm continuing in business for the next sixty years.  Spencer Browning & Rust had an early dividing machine and inscribed arcs for others.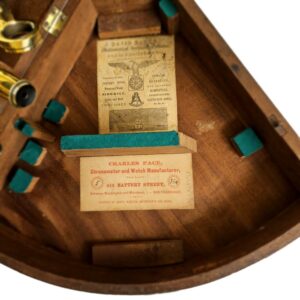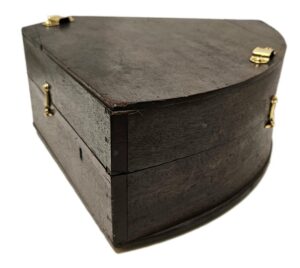 Fine Hardwood Mahogany Case