Berge of London – Late Ramsden
Sextant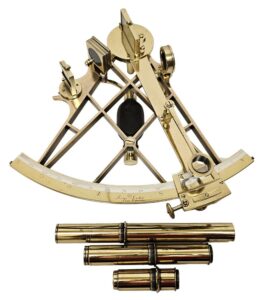 Presented is a highly collectible and exceptional instrument engraved with the Berge London – Late Ramsden insignia.  Mathew Berge was an apprentice to Jesse Ramsden who was one of the foremost developers and designers of instruments for celestial navigation in the 18th and 19th centuries. This classic Diamond and Diamond Pattern sextant comes with 3 scopes, all housed in a Keystone-shaped case.  The labels in the case are not legible -" Andrew Christ???" – Glasgow, and "Whyte, Thomson & Co. (also Glasgow).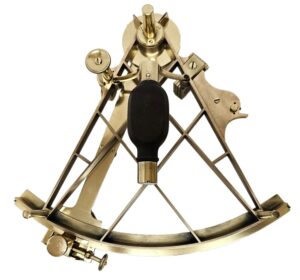 Back View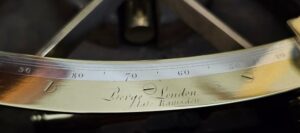 Engraving
" Berge London
Late Ramsden"
Polished brass limb with inlaid silver scale -5 to 135 degrees – Index Arm Radius – 11″
Silver Vernier  -5″ to 15    Zero at the right
     Mirrors and shades – Horizon shades are missing                                                                     Scope in the threaded bracket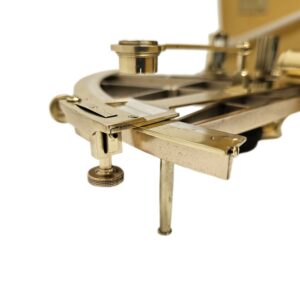 The Importance of Jesse Ramsden
Probably the most difficult part of the production of any circular instrument for measuring angles was the graduated scale.  A slight inaccuracy could lead to a considerable error in an observation.  In 1766, Jesse Ramsden constructed the circular dividing engine, by means of which the time to divide an octant or sextant scale was considerably reduced.  The radius of sextant and octant frames could also be reduced, which made them easier to handle, and the accuracy of the division was improved twelvefold.  Ramsden's second dividing engine was an improvement on his first and was operational by 1775.  (from "Sextants  At Greenwich" National Maritime Museum)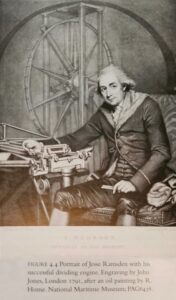 Jesse Ramsden – London 1791
Portrait of Jesse Ramsden with his successful dividing engine. 
Engraving by John Jones, London 1791, after an oil painting by R Home.  National Maritime Museum
Condition:  This fine instrument has been polished and lacquered for dramatic display and represents its original condition. It is missing the magnifier in the index arm and the horizon shades.  The worm screw in the milled knob is a hard turn but does move.  The mirrors are clear as are the four shades.  Two scopes are clear.  There is an eyepiece missing from the long scope.  Although this fine instrument is missing some pieces, the Ramsden connection elevates it high on the collectibles list.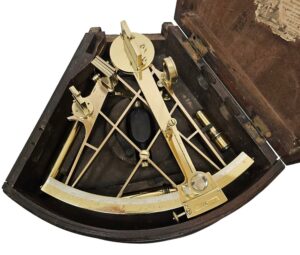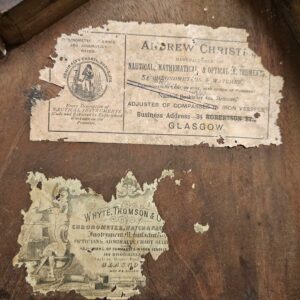 The keystone case has a nice aged patina finish, but has seen some rough use over the many years.  We think it is original to the instrument.