U S N Quarter Deck Brass Bell
Wall Mount Bracket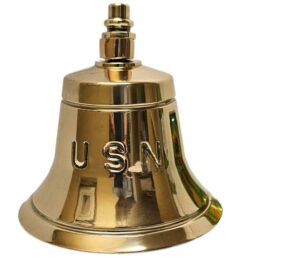 Presented is a smaller size Quarter Deck Navy Bell with a wall mount.  This fine bell is about 1/4 size of the
large Anchor or Foredeck Navy bells that we carry.
Dimensions:
Ht.to shoulder: 4  1/2″   Ht. to top Nut: 6 1/2″
 Base Dia: 6 3/4″            Width Wall Mount to front edge: 8 1/2″
Weight: 4 lbs, 13 oz.
The use of a special "bell metal" formula produces a clear, sharp ring and sets up a strong reverberation and strong resonanc.  As with all of our US Navy bells, it has the same sharp reverberating resonance as the larger bells, due to this special bell formula the Navy requires.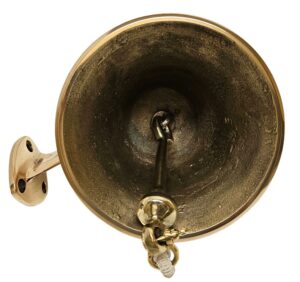 The bell has been polished and lacquered for  dramatic  display, and includes our monkey's fist bell rope.