C. Plath
Navistar Classic Sextant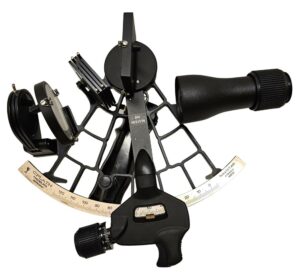 Presented is a very fine example of a post-war C. Plath sextant,  Serial No. 63023. It comes with its nicely finished and cushioned Mahogany case with a  wide angle 4 x 40 coated optics telescope. The original certificate dated 12/8/83 issued by C Plath is included.
This is an excellent choice for someone looking for a top-of-the-line sextant, considered one of the finest on the market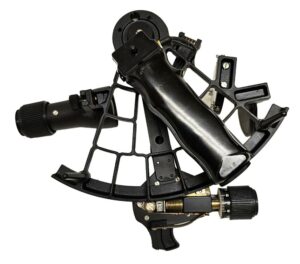 Back View
The sextant is housed in a Mahogany wood case with energy absorbing sponge liner.
On its index arm is the Deutsche Hydrographic Institute seal of approval.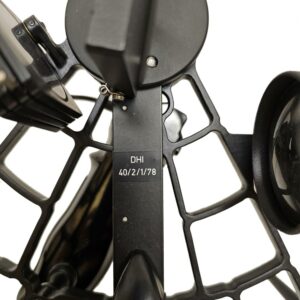 DHI LABEL: The Deutsche Hydrographic Institute stamp of approval elevates it to the highest level because it indicates this instrument was tested by DHI and found to meet the more stringent standards for commercial use. Hence, this sextant sold for more originally than the regular Navistar Classic.
The Navistar Classic was the top of the Plath line and was made in limited quantities, and was manufactured with a guaranteed non-adjustable instrument error of 10 arc seconds or less. The certificate states "This instrument is free of errors for practical use".  It sold for a premium over all its other sextants.
                                                Side view of mirrors and shades                                                            Light is working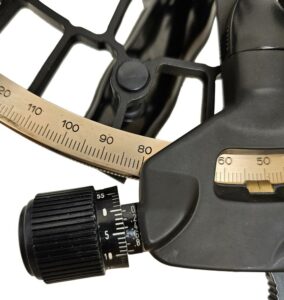 1. It has a special micrometer drum
2. The Navistar brand imprint on the arc.
3. The vernier has six indents and reads to 10 seconds of arc.
4. Comes with a fine wood case with an absorbent liner,
5. And originally comes with an instruction booklet, and Plath's
certification with matching numbers which are present.
This fine instrument appears to be in excellent condition and appears to have seen very little use.  The mirrors are clear as is the scope. The index arm moves freely.
C. PLATH NAVISTAR CLASSIC SPECIFICATION
Measuring
Range: -5 to 125 degrees
Telescope: 4 x 40 Coated optics
Frame: Bronze
with black enamel paint and bronze arc.
Micrometer Drum and Vernier Scale: reads to 10 seconds of
arc
Index Mirror: 59 x 44 mm. Aluminized on the rear side.
Horizon Mirror:
57mm diameter.
Shades:
4 for index mirror
3 for horizon
mirror

Weight sextant: 4.2 lbs with
4 x 40 scope.
Weight case 6 lbs.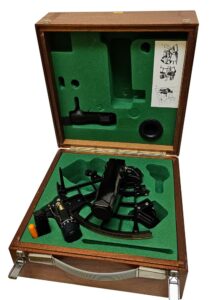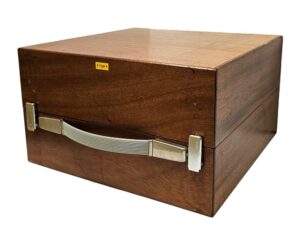 The case is in fairly good condition showing some age.  It appears that someone unfortunately put masking tape on the case, possibly to hold it together as the latches are not as solid as original.  We've managed to remove the tape and the residue.  There are a few minor scratches.
History of the C Plath Company
In brief, Carl Plath started manufacturing sextants, in addition to other nautical products, in Hamburg Germany in 1862 through the purchase of the David Filby instrument company though the company's origin dates back to 1837. As a result of WW II, C.Plath was dismantled completely by the occupation forces. Around 1950, various prohibitions were lifted, and C. Plath was allowed to begin production again of sextants and other nautical instruments. Also in 1949, C.Plath was offered a gyrocompass patent and in 1951 the first gyrocompass designed to this patent was presented to the public. C.Plath progressed from the role of instrument maker to that of a modern marine navigation equipment manufacturer. The product range was expanded in the following years by many more modern designs such as autopilots, speed logs, radio direction finders, etc.
In 1962 C.Plath was acquired by Litton Industries, a large American concern. The C.Plath North American Division was set up in 1978 in College Park near Washington. 1996 saw the introduction of the world's first fiber-optic solid-state gyrocompass by C.Plath. The first ever gyrocompass with no moving parts. Sperry Marine was formed in 1997 with the combination of C.Plath, Decca Marine, and Sperry Marine with more organizational changes yet to come. After 163 years, C.Plath changes its name to Sperry Marine in May 2000. In 2001 Sperry Marine becomes part of the Northrop Grumman Corporation. In the 1990s Plath came out with a series of new sextant designs with overlapping designs and confusing names. They seemed to have lost their way. Shortly thereafter, C. Plath quit producing sextants.
This Navistar Classic is the equal of the Navistar Royal in Plath's line of premium sextants and was made in limited quantities to the same degree of non-adjustable instrument error of 8 arc seconds thereby putting it in the same class. Because it was a new design in 1990 with many advanced features, it sold for more than other sextants. The visual clues are the flat index arm with diode lighting, the special micrometer drum with a rotating vernier, and the Navistar brand imprint. The rotating vernier has six indents and reads to 10 seconds of arc. You turn it to match the "0" point with the "0" on the micrometer drum so that the index error reads zero. It comes with its original detailed instruction booklet, with Plath certification and the number 61925, but no date. C. Plath quit producing sextants around 2001. The parent company has completely liquidated everything including machinery, equipment, and spare parts.