Chelsea U.S. Maritime Commission Clock
Ca 1980s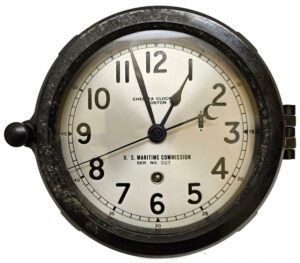 Presented is a fine, vintage, U.S. Maritime Commission engine room bulkhead clock, Serial No.842591, produced by Chelsea Clock Company during the 1980s.
Price:  $850.00              Shipping:  $35.00
As most of these clocks in the phenolic cases were produced during the WW II period, we think the movement with serial number is a replacement of the original movement in this housing. This is an 11-jewel, 8-day movement, although we find that it runs for almost two weeks on a single wind. For best timekeeping, it is best to wind these clocks once a week.
DIMENSIONS:
Case max diameter  7 1/2″
Dial visible area 5 1/4"                       Depth  2 1/2"
Weight   3 lbs. 7 oz.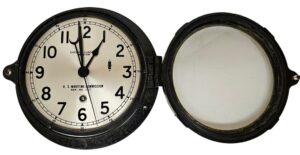 The serial number dates from 1980s. It is housed in a black phenolic case with a silver face and clear black etched numbering and is in pristine condition. Metal shortages and scarcity during the war mandated that the clocks for the military during this period switched from the bronze & brass cases to phenolic.  The industrial case indicates that this was manufactured for shipboard use, and shows some minor marks of age and use. The clock has been recently serviced and cleaned by a veteran Chelsea Service shop, and the movement is keeping excellent time.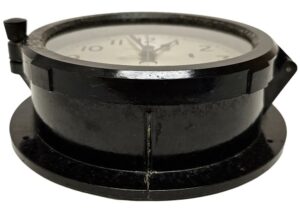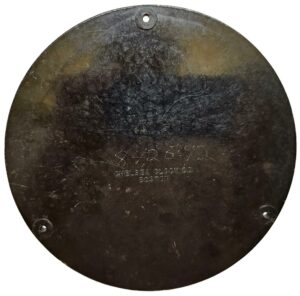 Back of clock
As with all of the Chelsea government clocks in the phenolic cases, the serial number for the clockworks is scratch engraved
on the back of the clock.
The United States Maritime Commission (MARCOM) was an independent executive agency of the U.S. federal government that was created by the Merchant Marine Act of 1936, passed by Congress on June 29, 1936, and replaced the United States Shipping Board which had existed since World War I. It was intended to formulate a merchant shipbuilding program to design and build five hundred modern merchant cargo ships to replace the World War I vintage vessels that comprised the bulk of the United States Merchant Marine, and to administer a subsidy system authorized by the Act to offset the cost differential between building in the U.S. and operating ships under the American flag. It also formed the United States Maritime Service for the training of seagoing ship's officers to man the new fleet.