U.S. Navy Mark II Sextant 
WW II Era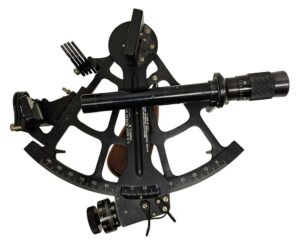 Presented is A U.S. Navy MK II sextant made by Bendix Aviation Corp in 1943, and bears Serial Number 19264 alongside the Naval Observatory cartouche of acceptance.  At that time, the Bendix Corp was a division of Eclipse-Pioneer Div., Teterboro, N.J.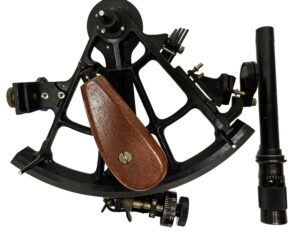 Back View with scope
The sextant is in good condition for its age. It shows minimal wear and all parts are moving.   There are replacement mirrors present in the case.  All its machinery is present. Both fitted mirrors are in clear condition, one of the horizon shades discolored, one showing some discoloration and the rest all clear.   The case is tongue-in grove wood and shows some wear and handling from age but is intact with decorative latches.  There is a mirror adjustment wrench present.
Like all MK IIs, its arc reads to 145 degrees which were standard for this design, making it
more properly a quintant.
Measuring Range: -5 to 145 degrees
Accuracy:
Tested to +/- 20 arc seconds
Telescope: 3 x 26
mm Coated optics
Frame: Aluminum with black enamel paint and white numbers
Arc: Bronze
Micrometer Drum and Vernier Scale: reads to 6 arc seconds
Index Mirror: 44 x 34 mm with spare
Horizon Mirror: 28 x 21 mm
Shades:
4 for index mirror
3
for horizon mirror
Illumination: No
Weight
Sextant: 2.5 lbs  –  With Case: 8 lbs.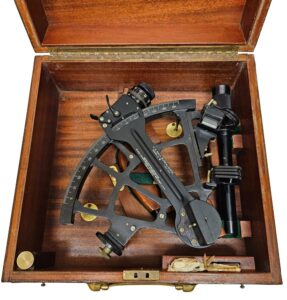 Case showing additional replacement mirrors and wrench