Chesapeake Bay
Skipjack Model of "Louisa"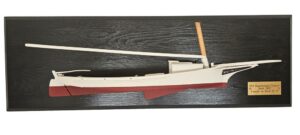 Dimensions
Model  Overall 19″  (with boom and bowsprit)
Hull with rudder and skeg  2 1/2″
  Backboard: 21 3/4″ by 7″
Price:  $350.00                Shiping:  $35.00
Presented is a very well-executed model of the "Handscraper" "Louisa", built in the Little Choptank River about 1897.  The colloquial name "hand scraper" was used to describe the process of dragging an oyster dredge that was raised and lowered by a manually operated "winder" or winch.  However, most describe these beautiful Chesapeake workboats as being "Skipjacks.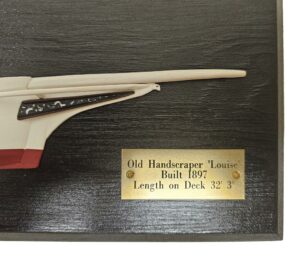 These fine vessels represent the story of a quickly vanishing way of life and a culture unique to the Chesapeake Bay. The skipjack, an iconic wooden sailing vessel, has been used for dredging oysters since the nineteenth century. Once numbering in the hundreds, the number of working skipjacks has fallen to little more than a handful as the annual oyster harvest has been drastically reduced due to disease, pollution, and mounting social and economic pressures.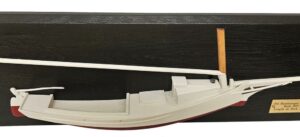 ---
The skipjack became the State Boat of Maryland in 1985.
At that time, the General Assembly noted that: ". . . Recent efforts to restore the environmental integrity of the Chesapeake Bay have rekindled interest and appreciation in the majestic estuary as not only an economic asset but also as the foundation for a way of life for many Marylanders; and . . . Nothing better represents the way of life of Maryland watermen than the historic Skipjack.
The finish on the hull is smooth and painted in flat white for the hull and flat maroon for the bottom.  This is a very finely executed model with a slightly contemporary clean look.    The boats were often built by the oystermen who worked them.  This is a hand-built "one-off" model by Doug Wehner, dated 2010.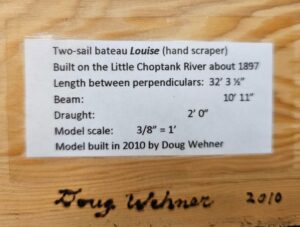 The skipjack is sloop-rigged, with a sharply raked mast and extremely long boom (typically the same length as the deck of the boat). The mainsail is ordinarily triangular, though gaff-rigged examples were built. The jib is self-tending and mounted on a bowsprit. This bowsprit sail plan affords the power needed to pull the dredge, particularly in light winds, while at the same time minimizing the crew required to handle the boat.

Back of mounting board