Chelsea Radio Room Clock
Pre WW II Period
12/24 Hour Face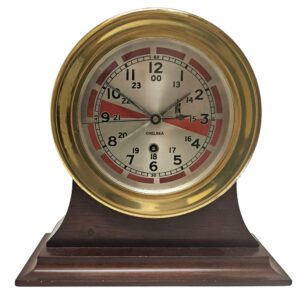 The stand, a $75.00 value, is included!
It has been quite some time since we've been able to offer one of these exceptionally fine Chelsea Radio Room clocks.  The clock's serial number 221476 dates it to 1935-39. In 2022 it was cleaned and serviced by Chelsea in Boston and is keeping excellent time.  The movement with 12 jewels has machine-cut pinions and wheels, on magnetic Breguet-type hair spring and compensated escapement. This makes a very high-grade precision timepiece. And we were particularly pleased to find one of these fine clocks housed in a brass rather than the phenolic case in which these clocks of that period are usually housed.  The heavy forged brass case has a screw-on bezel with a maximum diameter of 7 ″ at the rear and is 2 3/4″ deep and 7″ at the front bezel.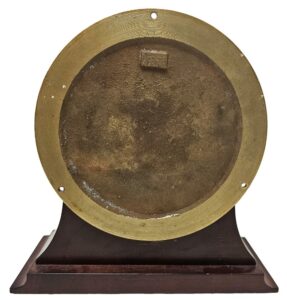 The sinking of the Titanic resulted in the Radio Act of 1912, requiring 24-hour radio watches at sea. The disaster also led to this clock design, which features two 3-minute periods marked in red, indicating Morse Code silence periods when only distress, urgent, and safety signals could be transmitted.  There is an additional white hour hand, called a Zulu hand, which can be set to Greenwich Mean Time or any other time zone you choose.
| | |
| --- | --- |
| | |
The clock runs for a full 8 days when fully wound, but because of its age, we recommend it be wound about every four to five days for best timekeeping results. The screw-on bezel takes care in fitting to the case. The bezel and case threads are fine and there are a few places of resistance, but the bezel will fully seat if care is taken. SPECIFICATIONS: Forged bronze case 7-inch face and a 5 1/4 inch viewable area. The silver face is acid etched in like new condition with Arabic 12 and 24-hour numerals and lettering filled in black. The ultra-precision 8-day, twelve jewel movement, a compensated balance wheel and hairspring, and silver hands and sweep black second hand are all in excellent condition.
Side Views
DIMENSIONS:
Case max diameter   7 "
Front Bezel  7 "
Dial 6″      Visible Area  5 1/4 "      Depth  2   3/4"
Weight   6 lbs.  8 oz.
These exceptional Chelsea Radio Room clocks in excellent condition and in brass cases have become very hard to find.  They make wonderful and memorable gifts for that special occasion