Chelsea 24-Hour U.S. Navy 
Combat Center Brass Clock
Dated 1925-1929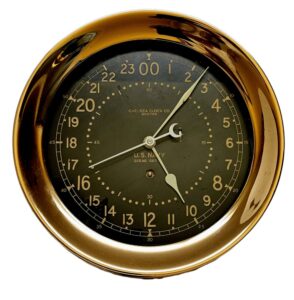 This is a stunning clock in a rare brass housing making it an important and wonderful gift or presentation piece
for that very special occasion
Dimensions:  Outer Case:  Back of case 11″     Front of Case:  10″     Diameter of Dial: 8″          Depth: 3″
Weight: 13 1/2 Lbs
Presented is a beautiful 12-jewel, eight-day U.S. Navy Combat Center clock by Chelsea, in a 10″  brass case with a rare 24-hour black face that makes one full revolution of the dial in 24 hours.  Military clocks like this were made to the rigid specifications of the Navy Department.  The clock's serial number, 186940, dates it to 1925-1929.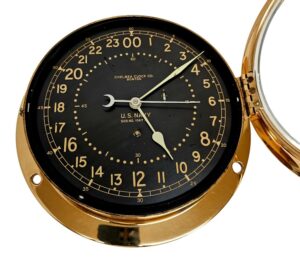 It was cleaned and serviced by Chelsea Clock Co. in Boston in September 2022.
This stunning clock is housed in a heavy forged brass case with hinged opening.  The maximum diameter at the base is 10 1/2″, 3″ deep, and 10″ at the front bezel.  In all of the years we've been selling these fine Chelsea Navy clocks, this is only the second one of the 24-hour clocks we've had in the bronze case.  We usually find the Navy clocks in the phenolic cases as so many of the clocks were produced during wartime with the scarcity of metals at that time.
Serial Number 186940 and inscriptions on the face
Condition:  This clock is in remarkably fine condition considering its age.  The face looks as near new showing one very minor blemish.   There is a small scratch on the white minute hand.  The black dial is acid etched with Arabic numerals and lettering in white that has lightly yellowed with age.  Because of its age, we recommend it be wound about every four to seven days for best timekeeping results.  The forged brass case shows as new with an easy-opening hinge and button closure.
Side views of hinge and button closure